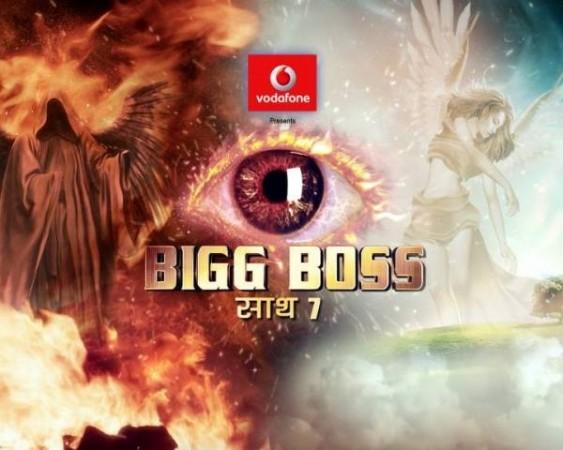 Day 42 at the Bigg Boss 7 house saw an entertaining mix of inmate gossip and Salman's witty act with actress Priyanka Chopra.
Priyanka was on the show to promote her upcoming film "Krrish 3" and performed a jig with the host and Bollywood A-lister Salman. The chirpy actress was at her natural best as Salman kept teasing her and also mimicked Hrithik's puppy dance moves in the film.
At one point, he took a dig at Shah Rukh Khan and said that only the actor's film made into the 200 crore mark (Chennai Express) whereas his was still in the humble 100 crore club.
Further in a task allotted by the actress, the inmates came up with their own form of a superhero. Tanisha, Eli and Andy acted as superheroes but Andy's hilarious act as the underwear flaunting superhero had everyone in splits. The VJ won the task and was presented the "Krrish" superhero suit and mask.
Inside the house, the inmates discussed the possible new entrant and Armaan said it was Candy Brar, Kushal's ex-girlfriend, which was confirmed by the actor himself. Gauhar, however, refused to believe the assumption and Andy unabashedly pointed out the embarrassing scenario if Candy arrives.
There ensued a tiff between Andy and Gauhar as both had different advices to Kushal on his future actions in the show. Kushal was criticized by Salman for foul mouthing Tanisha the other day. While Andy tells him to use his head and think from the show's perspectives, Gauhar on the other hand supports him and offers consolation as a friend.
As is the norm, eliminated contestant this week Asif Azim appeared on the Sunday show and was shown some clippings inside the house during his stay. Reacting to Gauhar's clip that he had checked her out, the model clarified to her that if that were the case, he would have done so several years ago.
Asif advised Pratyusha to stop gossiping about others and be more confident. But the actress cut him short saying she seeks no advice from him. However, the intervention did not really go down well with Salman, who spoke out for Asif. Salman told Pratyusha to take the right stand and listen to the model's valuable advice. He also added that the truth would obviously be bitter.
As a power allotted to him, Asif chose Kamya as hero of the house and for villain he chose Gauhar and Tanisha, who were handcuffed together. For next week's captaincy he nominated Andy.
The model however, got overtly emotional on seeing his footage at the house with the golden retriever, Heaven.
A sneak peek into the next episode had Andy and Pratyusha calling each other gossip mongers. Adding to developments is the Bigg Boss' task of a twisted nomination process.