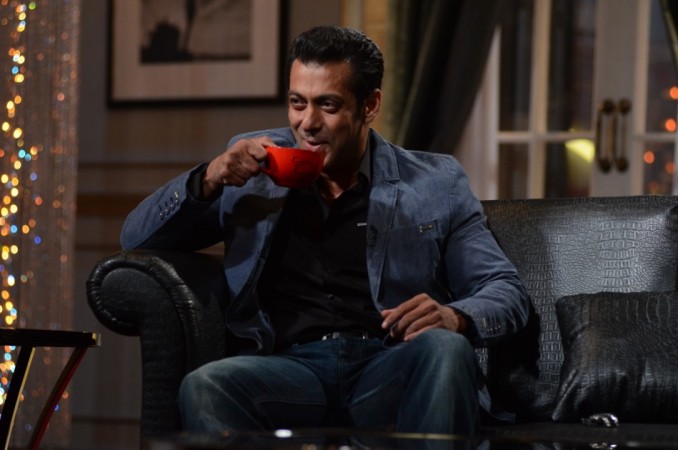 Bigg Boss 7 host Salman Khan got into his witty mode while taking on contestant Ajaz Khan over his emotional antics in recent episodes.
Ajaz, on Friday's episode, was seen breaking down after seeing Kushal and Gauhar dance together. The actor was seen crying alone in the bathroom and speaking to cameras in somber mood.
But his antics miffed the show's host Salman. The superstar stated that Ajaz was deliberately trying to make a mountain out of a molehill.
Salman, while talking to the studio audience on the show, humorously asked if two people (Kushal and Gauhar) already share mutual feelings and are happy, what was in the fuss created by the third (Ajaz).
The actor showcased his trademark humorous style and stated: "Now if I was in such situation with my girlfriend and there was an admirer of my girlfriend acting thus... his face would hit my palm, quite painfully." While saying so, Salman displayed his itching palm and then laughed out coolly, along with the audience.
Salman later questioned Ajaz openly on the same. Ajax, however, tried to downplay the incident saying he was missing his son but Salman refused to budge and pulled in Kamya, who was also present at the scene. Kamya, a friend of Ajaz, also reiterated Salman's views that he was disheartened by the Gauhar-Kushal pairing. Ajaz turned mum eventually as Salman advised him to act sensible and not be a villain.
Salman's tirade against Ajaz continued as he picked on him again for repeatedly taking on Tanisha's family on cameras to complain against the actress. The "Dabanng" star sarcastically told Ajaz: "Your friends Ajay Devgn, Kajol and Tanuja (Tanisha's Mom) will not even acknowledge you even if you are a contestant in this show for three or four seasons."
Salman also recommended Ajaz to "rent a brain sometimes", referring to his stupid and stubborn actions during the toy task.