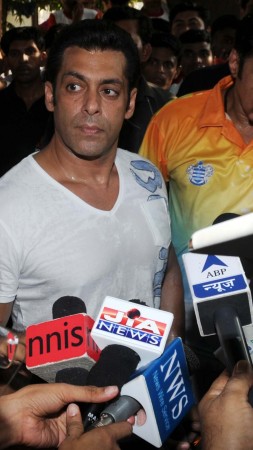 Saturday's episode of television reality show "Bigg Boss" witnessed an explosive encounter when host Salman Khan was locked into a verbal duel with contestant Gauhar Khan.
Salman, taking a stand in the Kushal-Tanisha fiasco, reprimanded Kushal for his ungentlemanly act of mistreating Tanisha, further sparking off another set of heated arguments.
Salman slammed Kushal for attacking Tanisha with personal references. As Gauhar defended Kushal's actions, Salman objected and lost his temper at her.
A sobbing Tanisha added to the drama while Gauhar fiercely voiced her opinion and even referred to Salman's partiality saying, "It dosen't matter what I say, you will only hear what Tanisha says."
The show has often seen Salman taking Tanisha's side. Even though his stance was justified to an extent when he pointed out that women were portrayed in poor light, his ignorance of the actress' previous follies could not be overlooked.
The overt reactions from Salman and the outspokenness of Gauhar evoked massive reaction over the web. Despite no film releases, Salman Khan kept trending on Twitter with hashtags, '#SalmanUnfair', '#SalmanisAlwaysFair' and.'#BB7.' Other trends were 'Gauhar', 'Tanisha' and 'Salman Khan'.
In response to the public reactions, Salman on Sunday posted a barrage of tweets justifying his actions on the show.
"You see 1 hour, I see the whole deal. Guess some of you guys may not react when someone speaks to your family's female members or women in that manner. But I do, and most of us men and women stand up against men who run them down..."
Here's a look at the varied reaction on the social networking site:
"Atleast SalmanKhan had the Guts to Stand Up For Something. He Says wat he Feels is Right, he Isnt Fake Atleast," said a Salman fan.
A countering post read, "Gauhar was Gauhargeous today, did an amazing job by not getting intimidated by Salman Khan & putting her opinion strongly. #bb7 #UnfairSalman."
"What is most disgusting is how Salman Khan entirely supports Tanisha and her ways & then talk about being fair. How so Mr. Khan?" asked another user.
But the actor's fans were strong and loud as one wrote, "Full respect to you SalmanKhan for so strongly taking up for a woman wronged! And to those on twitter who disagree....get well soon!"
It is likely that Salman's reactions to the episode are going to cause further repercussions in the house and might witness a change in the inmates' relations.