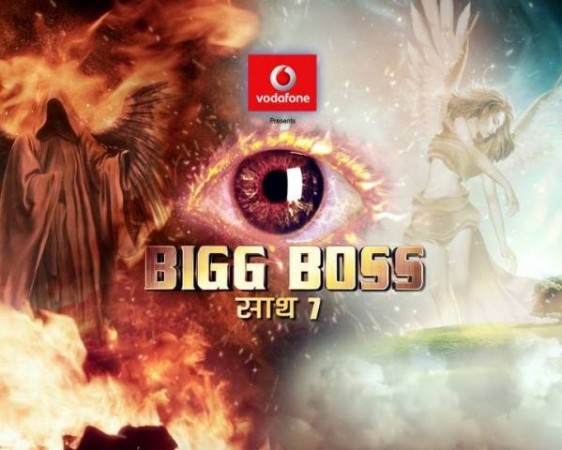 The 'weekend ka wow' episode of television reality show "Bigg Boss" on Saturday had the host Salman Khan taking turns to show each contestant their real worth as Candy Brar got eliminated.
This week the house's new entrant Candy Brar was eliminated from the nomination list that also included Sangram Singh, Ajaz Khan, Sofia Hayat. Better known as Kushal's ex-girlfriend, Candy stayed in the house for two weeks and was mostly seen in the company of Armaan and Tanisha.
The episode's highlight was the superstar taking on each contestant one bu one.
Salman pointed to Ajaz's shirtless act, advising him to refrain from making such moves which cause discomfort to others. Unable to do away with his mischievous nature. Salman also took a veiled dig at Tanisha and said the house's situation made it impossible for him to live in it.
Eli Avram's turn came next whereby Salman said it was unfair on the actress's part to plot captaincy among the select few and avoid Sangram in the process who deserved to be captain. Even in his humorous way he struck a point that Eli shared a good rapport with Sangram and her act referred to nothing but a game play.
Salman then revealed he had asked forgiveness from Kushal post his exit for the sake of letting bygones be bygones. But the television actor made an exaggerated claim of it in his interviews. A clearly displeased Salman said that Kushal's act of seeking publicity was 'not cool' and unacceptable.
He said if Kushal felt guilty for his violent behaviour towards Andy, he is ready to let him in the house unopposed. On this, Armaan said Kushal might again commit violence and apologise on his part. Gauhar Khan interjected that Armaan had been abusive several times and also had repeatedly asked for forgiveness.
Salman then pointed to Gauhar's referrence to Eli being selected as the team's leader on face value during the Rajneeti task. Even though Gauhar tried to defend herself, Salman's point was loud and clear that she targeted Eli and hence her crying foul over Tanisha's 'cook' comment became invalid.
The superstar next praised Kamya Punjabi for speaking her mind. He advised Pratyusha to do right thing and follow Kamya's wise words. He also mocked her for taking a wrong stand at most times.
Sangram was the star flavor of the episode as Salman praised the wrestler and his humble nature. He lauded Sangram's efforts of keeping his cool even when Armaan shouted expletives at him.
Salman bashed the entire Armaan team who got together to remove Sangram as party leader in the task without his consent. Tanisha was in for earful as Salman said that without Sangram's support their party could not win. He added that the wrester acted like a gentleman and stood strong in the party despite being repeatedly humiliated. Giving it back to the winning team members, he picked on Tansiha's partial approach and asked why Armaan was given a leeway based on his temper tantrums when the situation should have been otherwise.
The most prominent question was brought up as Salman coaxed Tanisha to stand her ground and speak for herself against Armaan's rude behaviour. As he encouraged Tanisha to give it back to Armaan, he made it clear that Armaan clearly disrespected a woman and that his attitude is unacceptable and downright atrocious be it with Tanisha or Sangram.
Despite all said and done, the episode witnessed another spat as Armaan took on Ajaz. The fight took a nasty turn as both took digs at each other's professions. The entire fight will be witnessed on Sunday. Armaan was seen getting dangerously close to Ajaz while the latter laughed off his threats and mocked him.