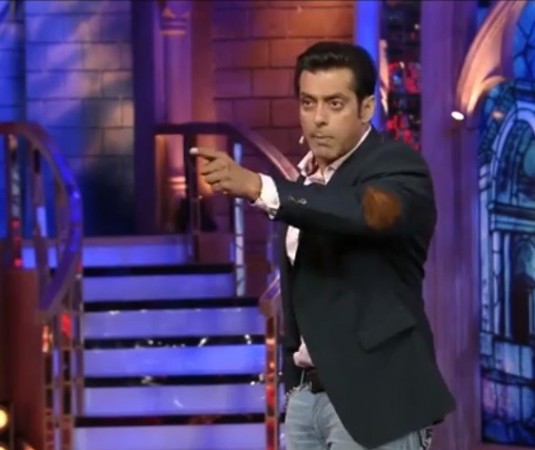 Salman Khan's acted fair judge on Saturday as he took on the contestants over Andy while Pratyusha got evicted.
Andy's unfair defeat in the fight for captaincy came to the fore with host Salman Khan taking it up in his unique way. The superstar for obvious reasons asked Tanisha and Armaan the reasons for voting against Andy and for Pratyusha.
All this time, Salman had been called unfair for allegedly favouring Tanisha-Armaan but on Saturday, he questioned the duo's unfair act which cost Andy his captaincy. Armaan seemed uncomfortable in admitting that he had deliberately gone against Andy and even manipulated Tanisha to do the same. Salman waved off Tanisha's lame excuse of supporting Pratyusha as captain over Andy, as the latter watched the situation in delight.
Kamya also got into argument with Andy on captaincy issue saying that he did not get votes since he changed sides often and bitched about everyone.
Picking up the commando task performances, Salman asked Sofia why she changed her vote from Gauhar to Tanisha in the last moment. Sofia candidly pointed that she listened to Armaan and others and changed her mind. Tanisha was also questioned for not voting for Kamya despite knowing that she wanted to meet her family as the winning reward.
At this point, Pratyusha's stupid inference that Gauhar was less deserving in the commando task was brought up. The 22-year-old had questioned Gauhar's performance saying that she had merely cooked and overlooked the task. Even Armaan was questioned for the same. Salman took it on himself and defended Gauhar saying that she deserved the best performance since she did the allotted task and also cooked food for others.
Later, Pratytusha was evicted from the Bigg Boss house on Saturday. She scored the lowest votes among this week's nominees - Gauhar, Tanisha, Kamya and Ajaza - and was shown the door. Kamya broke down into tears seeing close friend Pratyusha's exit.
The superstar had immense fun in pulling Ajaz and Sofia's legs. He highlighted Sofia's calling Ajaz unmanly and thief and mocked Ajaz's open flirting with Pratyusha and Gauhar. Sofia's suggestion to Ajaz of peeing in the pool was taken up by Salman as he hilariously teased Sofia, who appeared mostly confused.
Eli stole the limelight when she sang "Hum Dil de Chuke Sanam" to Salman coyly. The star responded by humorously saying several interpretations will be made on Eli's song now. Sangram, for a change broke into dance, aping Dharmendra's steps in the hit song "Yamla Paagla Deewana."