The weekend episode of television reality show "Bigg Boss" featured actor Sunny Deol as guest, while Ajaz Khan and Armaan Kohli's fight continued.
Sunny appeared on the show to promote his film and was seen sharing a great bond with host Salman Khan. The two superstars danced hilariously and Salman shared an anecdote about Sunny accidentally ripping off his own jeans in a fit of anger by simply pulling his hand from the pocket. Salman in praising his "Jeet" co-star also said that he was extremely shy.
A "lassi" drinking competition between Ajaz and Armaan was conducted with Armaan emerging as the winner.
Armaan and Ajaz's fight is shown on Sunday episode where both took digs at each other's profession. Ajaz's comment on Armaan being the 'flop hero' was loud and clear. This might be the first time that Armaan refrained from using expletives and was seen complaining to Tanisha that Ajaz had brought up his father's name in the spat.
During the episode, a mini clip on Eli Avram's gradual transition from an innocent girl to a cunning plotter was shown, followed by a clip of Ajaz's stupid antics and lastly a clip of Armaan's non-stop grumbling and bitchng in the house. Salman's expression at the Armaan's clip could be gauged as one of dissatisfaction.
A majority of the inmates demanded for a change in Armaan's behaviour when asked by Salman about what they would like to change in others.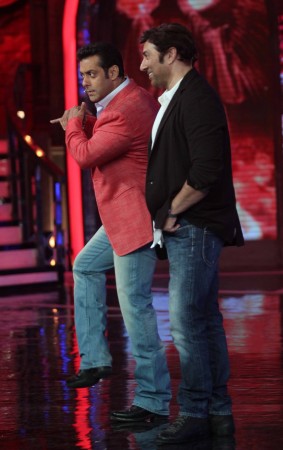 Ajaz turned entertainer by mimicking Sunny and Saif Ali Khan in front of the two superstars.
Salman took the opportunity to compare Eli with actress Katrina Kaif and was seen sharing a mischevious laugh with Sunny on the topic. He said that Eli was a replica of Katrina from her initial days in Bollywood.This is the second time Salman popped up his ex-girlfriend's name with reference to Eli. Previously, he had compared evicted contestant Shilpa Agnihotri's eyes to Aishwarya Rai, another one of his ex-flames. The superstar also took a dig at Hrithik Roshan by copying one of his dance moves and laughed with the "Gadar" star.
Later, evicted contestant Candy Brar appeared on the show and voiced her disapproval on Kushal's possible return to the house. Based on the special power bestowed, she nominated Kamya in the coming week's nomination and also called Tanisha as the house's hero and Ajaz as the house villain.
An entertaining part of the episode was Sangram Singh's attempt at belly dancing with help from Eli. The soft-spoken wrestler did a few comical moves while attempting to ape her He also blushed when his girlfriend Payal Rohatgi called up..
On Monday's episode, the nominations process would take place. Eli being the house captain is in a fix when asked to name a contestant who would directly be nominated for eviction. The coming episode will also hold an interesting task which will see the contestants turn into commandos for the luxury budget task.