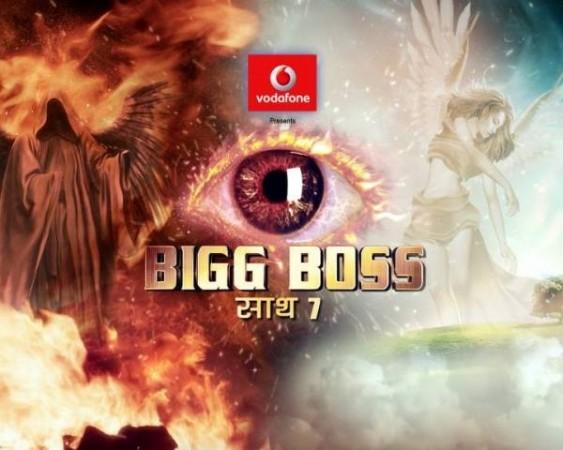 Season 7 of the reality show Bigg Boss got all the more dramatic with controversial acts and fights, which led to Kushal being evicted from the house while Gauhar decided to walk out of the show.
Day 44, an action-packed episode in the house unfolded with the housemates being allotted the task of ignoring the obvious in the house as a part of luxury budget. Andy was allotted the task of instigating and evoking reactions from all the housemates along with other miscreants from outside.
As members from outside came in to evoke reactions from inmates with their uncanny acts, Andy too joined the purpose and acted diligently showing his devilish side.
Already enraged at his name being taken for eviction, the entertainer welcomed the task as an opportunity to give it back to the inmates. He was seen spitting venom mainly at Team Kushal, which includes Gauhar, Pratyusha, Kamya, Kushal and Apoorva. He also tried to grab Tansiha, Armaan, Sangram and Eli's attention with his antics.
Initially, Andy tried to make people laugh as he donned the girl contestant's clothes and fiddled with Gauhar's lingerie to evoke her reaction. However, he later moved on to hit below the belt with personal remarks. He called Pratyusha "thali ka baigan" as in turncoat and reminded her of Salman's advice to be sensible.
He moved on to Gauhar and commented that the actress's attitude was fake and bossy and also highlighted her relation with Kushal. The personal remarks which seemed more like an outburst was surprising since Gauhar and Andy have been good friends since the beginning and on Monday's episode; the VJ had called Gauhar one of his true friends in the house.
Andy also took digs at Kushal's ego, mocking him with the Tanisha incident and mimicked his helpless reaction in front of Salman on Saturday, when the superstar had bashed him.
The inmates in return gave a cold shoulder to Andy and pretended to talk amongst themselves, despite his presence. They indirectly called him loser and said that he deserved to be voted out. This did not go down well with Andy who was later seen sitting in a corner and crying.
At the end of the task Gauhar, Pratyusha and Kamya bitched about Andy's acts and ganged up against him. Later, Gauhar approached Andy directly and told him that his acts during the task of were cheap, classless and hurt her immensely and said she was not his friend anymore.
Immediately, a heated exchange between Kushal and Andy ensued and turned into a violent act wherein Kushal went on to forcefully hold Andy by the neck while raining down verbal abuses at him. The heated situation escalated as Pratyusha lashed out at Andy and supported Kushal saying that he should have been ashamed of his deeds.
Ironically, Gauhar, who had made a hue and cry about Tansiha pushing Kushal, calling it a violent act, had a different take on Kushal's actions with Andy. She defended Kushal saying that he merely caught hold of Andy's neck and did not hurt him and so it was non-violent. She also tried to justify his actions to Eli and Tanisha.
But a rude shock awaited the inmates as Bigg Boss reprimanded Kushal by evicting him from the house citing his actions violent and unacceptable. Gauhar, reacting to BB's decision called it unfair and decided to walk out of the house with him hand in hand.
A high end drama was further witnessed as Armaan stood in guard of Andy as Kushal promised he would hit Andy before exiting the house. Security guards were also called to handle the terse situation. The incident appeared to take a toll on Gauhar, who fainted and had to be carried out of the house by Kushal.
The Channel reportedly tried to convince Gauhar to move back into the house but the actress refused to budge.
Meanwhile, another wild card entrant, British actress and singer Sofia Hayat, is also set to make an entrance into the house along with Ajaz khan and Candy Brar who were alraedy lodged into the isolated area of the house, Caravan.
Kushal and Gauhar's walking out of the house will be broadcast on Wednesday's episode.