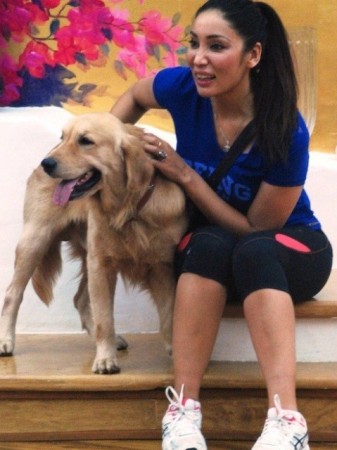 Reality show Bigg Boss 7 will have inmates losing cool over food in Monday's episode, as kitchen gets shut for an entire day.
The housemates are in for a tough situation on Monday, for flouting the house norms blatantly.
Bigg Boss reprimanded the contestants for breaking several rules, including speaking English repeatedly, discussing nominations despite warnings and continuing talking even after taking the mikes out.
Armaan, Tansiha, Gauhar and Kushal were named among the culprits.
The entire house faces the heat for the issue and, as a punishment, the house kitchen would be shut down for 24 hours and the inmates are made to go without food for a day.
Ajaz is seen grabbing some food items before the house locks down.
To handle the situation, house captain Sofia, orders that discussions on food is to be refrained for the time being, as it would exercise control.
But house bully Armaan refuses to give into Sofia's proposition and discusses delicacies. When Sofia tells Armaan to follow the captain's order, the actor snaps, saying he would not adhere to any rules.
Sofia hits back by teasing him and Armaan loses his cool and yells at the British singer. Infuriated, the middle-aged actor even called Sofia 'duffer' and claimed it was his deciding vote that made her the house captain. He further warns her to stay away from him.
Meanwhile, Ajaz and Andy are seen trying to pacify the situation.
Further complications also arise between inmates, as the brunt of hunger takes on the housemates' tempers.