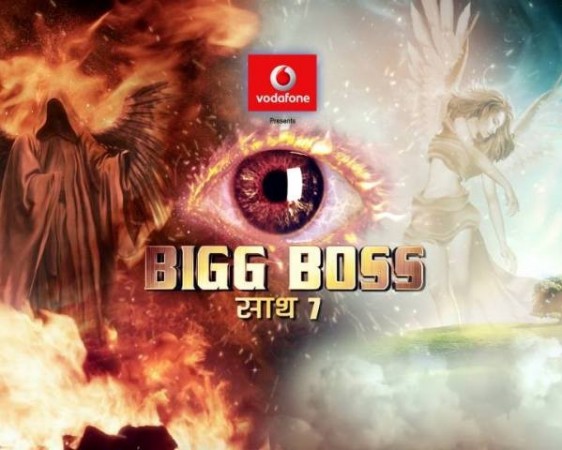 Another day of major developments awaited the inmates of "Bigg Boss" house on Day 32 as the house merged from two sides to form one composite living area.
The Bigg Boss house saw a massive transformation within hours as the entire hell side of the house was ravished by masked miscreants. As hammers and cutters did the needful, the Hell inmates were shifted to the Heaven side through a passage. The Hell portion of the house was later closed down.
Adding to the twist was another wild card entry, Vivek Mishra, better known as the notorious naked yoga teacher.
The new contestant was seen gelling well with the house mates but soon after Kushal, Sangram and Apoorva were seen bitching about Mishra calling him effeminate of sorts given Mishra's body language. While the self accomplished bitching queen Tanisha was recorded advising Armaan against the new entrant and referred him as cunning.
As is the ritual, the luxury budget for this week was announced with an amount of 2500 points for the exemplary performance of the Hell mates and house captain Gauhar Khan in the medal procuring task. However, Andy and Shilpa's alleged mishandling of their allotted task cost the inmates this week's entire luxury budget.
Meanwhile, the house's current infamous duo Tanisha and Armaan were again recorded cooking up a storm. Contestants Kamya Punjabi caught the two cozying up in the house's only camera free area, the smoking room. Kamya complained to the house inmates about the duo's act which flouted the house's one person entry rule in the room while Tanisha shrugged off the entire incident.
But the duo's woes continued further as majority of the house members (11) were seen giving a cold shoulder to them. Excessive complaint against the two's unacceptable approach was being discussed by other inmates.
Tanisha, realizing the desperation of the situation was seen attempting to extend an olive branch to Shilpa and Gauhar. This further led to tempers flying and verbal altercations between Kamya and the aggressive Armaan Kohli.
Kamya, who was once Armaan's close friend expressed disgust at Tanisha's lame behaviour in reference to Armaan's treatment in a previous task. In response, Armaan lost his brutish temper yet again and attempted to justify himself.
However, amidst all the shuffling, debates and accusations, the episode had a brighter side with Eid festivities being celebrated by Gauhar Khan and Asif Azim in traditional attires. At one point, Gauhar got emotional after receiving homemade goodies on the festive occasion, while the contestants were treated with festive delicacies.
The next episode promises further action as all the contestants are seen fighting it out to grab the top rank based on their professional credibility. According to the task, all the contestants are to be ranked in top to bottom order based on their overall popularity, credibility and performance. A sneak peek shows VJ Andy, Asif, Gauhar and Tanisha fighting out for the best.