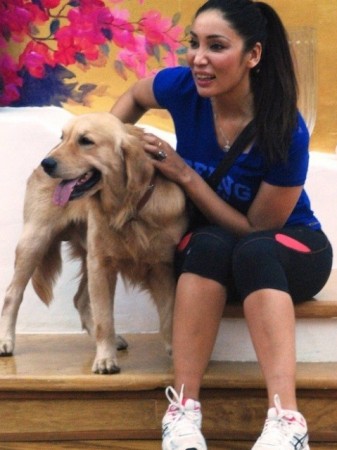 Eliminated contestant Sofia Hayat is displeased with Bigg Boss's decision to retain Armaan Kohli in the show.
Sofia was under the spotlight after a row between Armaan and she was witnessed last week. Things got ugly when Armaan accidentally hit her, with the stick of the mop.
The Brit had demanded an immediate exit from the show, but was assured by Bigg Boss that apt action would be taken against Armaan.
On Saturday, Sofia was eliminated for procuring less votes and Armaan was reprimanded for his acts. But the actor kept denying that the violence was on purpose and also explained that Sofia was equally at fault.
Now, the singer has stated that she is unhappy with Bigg Boss's decision of being lenient towards Armaan. However,Sofia explained that she was relieved that she was evicted and would not have to go through the fights ever again.
"I am definitely disappointed with Bigg Boss' decision but I am also happy with my eviction as I didn't want to stay near Armaan. He is very abusive and tries to threaten everyone by raising his voice," Sofia told The Times of India.
"He called me a freak, a psycho... he used my medical conditions against me when I stopped taking his abuses. He always gets personal during the task. Everyone saw during the car task how he hit me on my face and after doing all that he's still in the house."
"He is a 'bastard'. All he can do is abuse people, I just hate him he's a gobar (cow dung) for me."
On Sunday, Sofia made an appearance on the weekend's episode with host Salman Khan and vented her fury against Armaan. The singer sarcastically told Armaan that his girlfriend had said hi, which led to another volley of expletives being exchanged. Sofia's advice to Armaan to respect women was met with cold reply from the actor, as he waved her off.