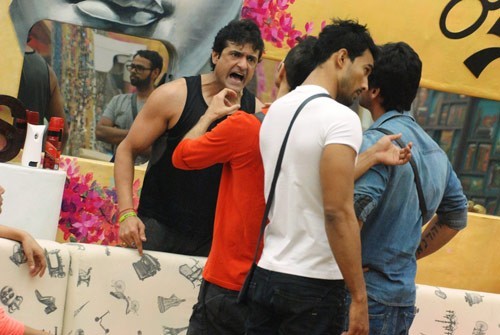 An explosive day at the "Bigg Boss" house awaited the inmates on day 37.
The housemates were allotted with the luxury-budget task wherein Gauhar Khan, Pratyusha Banerjee, Kushal Tandon, Sangram Singh and Armaan Kohli were confined to individual boxes, while the other contestants had to disturb them and make them come out.
As the five contestants in the boxes were disturbed by continuous banging, Armaan lost his brutish temper again and the subject of his ire was Kamya Punjabi, his once good friend.
His attacks and offending gestures forced Kamya into tears. Also, Eli got injured as Armaan pushed his box in an attempt to push away the others.
Andy was also caught in Armaan's abuse marathon and later complained to Bigg Boss of his violent streak and hurtful comments. Kushal also supported the cause. But Tanisha came to Armaan's defence alleging that his actions were unintentional and accidental which enraged Andy further as he gave her a piece of his mind.
While trying to prove Armaan's innocence, Tanisha also pointed to Gauhar's move of pushing her box. But her defence did not go down well with the already fuming Kamya who asked her to stop talking.
Unable to contain his outburst, Armaan finally threw the box away and lashed out at Kamya and Andy with another round of hideous abuses. Meanwhile, Apoorva Agnihotri tried in vain to pacify the situation, as part of his captaincy duty.
The housemates in protest of Armaan's abuses removed their microphones and demanded his ouster from the house. Bigg Boss, sensing the tense situation at the house, said Armaan's move to hurt Eli was not deliberate and should not be blamed. However, a warning was consequently issued to Armaan over his use of distasteful and insensitive words towards others.
Armnaan was later seen apologising to Eli by getting down on his knees. Eli accepted his apology and forgave him after which, he went to persuade an upset Kamya. The television star initially asked Armaan to maintain distance but then finally gave into his persistent pleas and said his words were hurtful.
Meanwhile, Sangram and Gauhar, who were still intact in their respective boxes till late night also faced a hard time as Asif, Vivek, Andy were seen pouring water and talcum powder to irritate them.
Sangram warned the others against using hair-removal cream, while Gauhar broke down with the treatment. Finally, the duo came out of their respective boxes late night with a record stay of 14 hours.
The task is far from over as more altercations and chaos are expected the next day, when the other contestants will take turns to fit into boxes while the earlier box mates turn into miscreants.