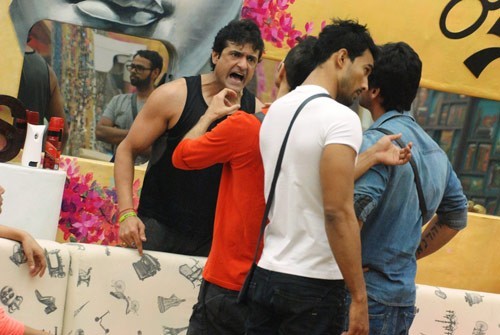 Reality show Bigg Boss 7 had Armaan Kohli ousted from the house, though not in entirety.
It is understood that the actor has not been eliminated yet and would be lodged in the secret area of the house, unknown to the other contestants.
Previous reports had claimed that an angry Ajay Devgn had asked Viacom 18 to eliminate sister-in-law Tanisha Mukherjee soon, given the actress' unabashed antics with Armaan in recent episodes.
However, rather than eliminating the actress, the show's creators added a twist and created the hoax elimination for Armaan, which appears a desperate attempt to separate the lovebirds.
It seems the makers reached the decision after Ajay threatened them. They found that Armaan's removal is the only viable option of keeping the actor and Tanisha away from each other, though the situation is only a temporary solution.
For now Armaan is likely to stay in the house's secret area, observing other housemates' activities for some time, before being called in to the house again.
Though Armaan and Tanisha have been separated on the actress' family's intervention, whether the act of distancing works or not, would only be seen in the coming days.
On Saturday, Tanisha broke down as Armaan got ready to leave the house. She kept holding on to him, refusing to let go and finally confessed her love, as she mouthed the words "I Love You" to the actor while he made the exit.