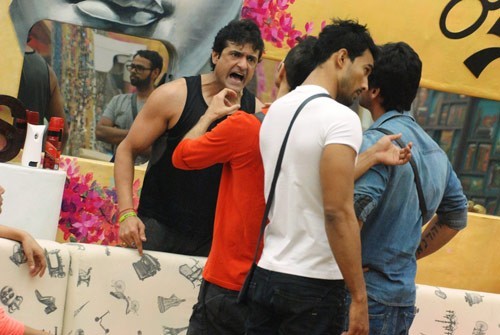 Armaan Kohli, after surviving a hoax elimination, would be back in the house on Monday, putting Ajaz in a fix.
Armaan had been placed in a secret room on Saturday's episode and was shown the house's live feed through television, during his brief stay away from the show.
Tanisha had appeared the most affected with the actor's exit and was heard telling Kamya that she felt lonely now and could relate with the actress' feelings on Pratyusha's exit. Andy and Sangram were also seen upset with Armaan's ouster.
However, Ajaz, the house's funny man, had a great time making fun of Armaan. He, along with Kushal and Gauhar, mocked the actor and questioned his reputed lineage and also likened him to a woman. To their misfortune, this footage was seen by Armaan in his room.
On Monday, Armaan would make a return to the house, taking all inmates by surprise. Ajaz looked washed out with the actor's reappearance, donning a confused look.
Post his entry, Armaan hugged Tanisha and then thanked Sangram and Andy for their support. He even told Sofia that she was good at heart.
The middle-aged actor then went on to approach Ajaz and threatened him indirectly that he would now show him his real stature. Ajaz tried to pacify the situation but the effort was in vain.
Ajaz has played a cunning game in the show till now but with Armaan now facing the actor directly, an interesting situation is set to arise.
Monday, also being the nomination episode, will prove another twist as Armaan look to vent his ire on Ajaz.