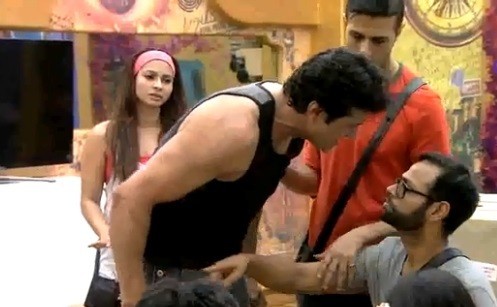 All is not well inside the Bigg Boss house with Armaan, who is known for his bad temperament, ended up punching fellow contestant, Ellie on her forehead though unintentionally.
The incident happened during a task on day 37 wherein a few housemates, including Armaan were made to sit inside a box till the task was completed. Other contestants were asked to distract the participants, but Armaan got angry and accidentally punched Ellie on her forehead while she along with others banged on his box.
The ugly scene didn't end there. Armaan broke open the box and started hurling abuses at everybody after they blamed him for punching Ellie. He claimed that he didn't punch her deliberately. He also hurled abuses at Kamya and called her a "divorcee" in the episode, forcing housemates to boycott him.
"This man (Armaan) is dead for all of us," Andy said on day 37 of Bigg Boss 7.
Ellie had earlier ended up crying after Armaan teased her by calling her 'Chammak Challo'. It didn't go down too well with her. Armaan had also picked up fights with housemates Kushal and Andy.
Meanwhile, Tanisha who is sharing good relationship with Armaan is seen defending him despite his violent attitude.
Shilpa Saklani Agnihotri, who has been evicted from Bigg Boss 7, had earlier taken a dig at Tanisha, saying that her desperate act in the show would cause embarrassment to her family.