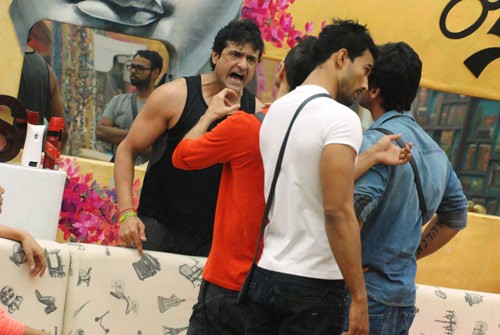 It was Armaan Kohli vs Sofia Hayat on Thursday's episode of Bigg Boss 7.
The heat of the toy task continued to the next day, as Armaan bullied Sofia and even got violent in the process.
Sofia and Armaan were declared worst performers of the task and competed with each other in a ball task to evade nomination. As Sofia lost easily, Tanisha, Armaan and Andy were seen sniggering and making fun of the singer behind her back.
Sofia got upset at this and was seen crying alone but was comforted by Sangram and Kamya.
Things turned nasty as Armaan tried to police Sofia and her dirty broom act. The hot-tempered actor in attempt to restrain Sofia accidently hit her with the broom stick on her chin.
Tempers flew and expletives were exchanged, as Armaan seemed adamant and kept blaming Sofia for the unnecessary fiasco. The singer fed up with Armaan, finally decided to exit the house and packed her bags.
Meanwhile, Tanisha was seen passing sarcastic comments on the singer's actions.
However, Bigg Boss managed to convince Sofia not to give up and have patience. He also told that he would reprimand Armaan in the weekend episode, after which the singer finally gave up her demand of exiting the house.
Later, Armaan was seen justifying himself saying that he had taken the action against Sofia for his 'darling Tanisha.' The actress on hearing the words got affectionate towards the actor and embraced him.
On the other hand, things finally looked brighter for VJ Andy as he was elected the house captain after an 81 day stay at the house.