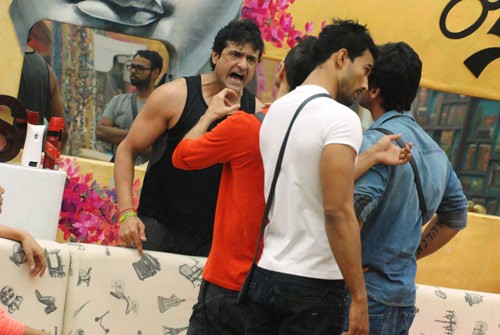 On behest of the luxury budget task, Ajaz took out his personal grudge against Kushal on Tuesday's Bigg Boss episode.
The housemates were divided into two teams with Ajaz, Tanisha, Andy, Sangram and Sofia being pitted against the other team that included Kushal, Armaan, Kamya and Gauhar. The rule of the task allowed Ajaz's team to give orders to Kushal's team, which they had to comply with.
The task turned controversial when Ajaz ordered Kushal to drink water from the dog, Heaven's bowl. The order shocked the opponent team as Gauhar cried foul and cited the order as inhuman. Meanwhile, Ajaz and Sangram were in fits of laughter.
After much coaxing, Kushal finally gave in and drank from the canine's bowl only to vomit repeatedly. Gauhar, Kamya and Armaan reacted sharply to the event and warned that the other team would face similar circumstances.
Armaan also had to face the heat when Andy ordered him to stand upside down with only wall as his support in the scorching sun. The actor agreed to the task when the duration was brought down to ten minutes. But he eventually failed and started abusing everybody around.
Kamya was given a far lenient task of eating five bitter gourds in a monkey suit. The usually tough actress failed to execute the task in limited time and threw up.
Kushal and Armaan were the opposition's target yet again when they were made to hold themselves in pushup position for several minutes. Armaan failed and started crying due to pain in his wrists. Following this, he started threatening the other team of far worse treatment when they are in power.
Tanisha, being the other member team faced Armaan's wrath, as he pushed her aside rudely while she was talking to Kushal. The gesture did not go down well with the actress, who decided to shift her bed away from Armaan and sleep beside Gauhar instead.
As Armaan's team takes over on Wednesday, further tensions arise when Kamya directs Ajaz to clean the entire house, which the latter avoids. Sofia, the house captain too is pulled up when Ajaz refuses to comply with Gauhar's order of getting his head shaved.
As a result, Armaan and Sofia get into an ugly verbal spat and Armaan's team is finally seen boycotting the task.