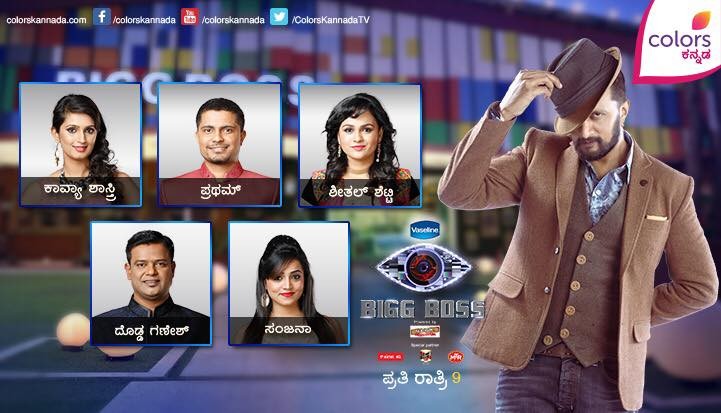 Cricketer Dodda Ganesh has been shown the door from Bigg Boss 4 Kannada. He is the second contestant to be out of the show after Vanishri.
Pratham, Dodda Ganesh, Kaavya Shastri, Sheethal Shetty and Sanjana were in the danger zone in the second week of Bigg Boss 4 Kannada. Fans of the show were curiously looking forward to see who will be shown the door in the Kiccha Sudeep-hosted show this week. Not surprisingly, Ganesh is out of the Kannada reality show.
Dodda Ganesh himself had no hopes of staying in the house and on a few occasions had expressed his wish to leave the house due to health issues. As a result, his elimination has not bothered much to his fans.
Earlier Story
Viewers have been criticising Pratham on social media from the first day of the show, for his irrirating and provocative behaviour. They have repeatedly requested the organisers on Facebook to evict him. Interestingly, their views seem to have suddenly changed after Friday's episode, during which Pratham and Niranjan Deshpande clashed over a petty issue.
Niranjan Deshpande used foul language to criticise Pratham and tried to tarnish his image, although he was aware that their conversion was being captured on camera. This irked Pratham, who retaliated by digging Deshpande's past and recalling a story published in a tabloid.
Their fight reached a different level when all the 14 inmates united to take on Pratham. This did not go down well with fans of Bigg Boss Kannada, who felt that it was unfair on the part of 14 contestants to target one person. This sympathy wave is expected to save him this week.
Here are a few comments supporting Pratham:
Aditya Gotaparthi: Well done pratham, u r a rockstar to stand against these 14 sheeps and give it back to them on the face. Keep going #BBK4 @ColorsKannadaTV
Sharath HN: First time 14 contests targeting 1 person in bigboss,
#BBK4@RuthvikBhargav When nirajan opened Pratham pocket he's okay, Bt wn pratham tried 2 look at nirajan pocket, He
HONESTGIRL: Pratham is equal to all of them well done pratham #BBK4..why niranjan saying sorry to camera he would have said the same thing to pratham #BBK4
Karthik Kumar K R: @ColorsKannadaTV #BBK4 pratham is the real hero of the scripted fight!!
The participant most likely to exit the show this week is Kaavya. Although Dodda Ganesh does not have a strong reason to be on the show, his recent dance performance in one of the tasks impressed many.
People feel that Dodda Ganesh deserves to get one more chance to stay in the game, considering the fact that he is not from the entertainment industry and most of the inmates either belong to the TV or cinema world.
Fans say that Sheethal Shetty and Sanjana have a better chance to stay on in the Bigg Boss 4 Kannada house.