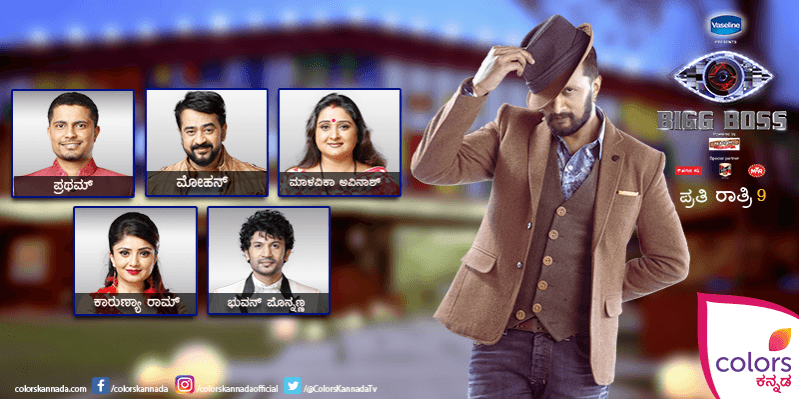 UPDATE: Actress Karunya Ram's journey in Bigg Boss 4 Kannada has come to an end on Saturday, 19 November. Well, the actress has been eliminated from the Kiccha Sudeep-hosted show.
Malavika, Pratham, Mohan and Bhuvan were also nominated for the elimination this week. In the end, it is Karunya Ram, who has been shown the door.
She will now join Vanisri, Dodda Ganesh, Chaitra and Kaavya Shastri, who were evicted in the previous weeks.
Earlier:
The stage is set for the elimination of the fifth contestant from Bigg Boss 4 Kannada. Karunya Ram, Malavika Avinash, Pratham, Mohan and Bhuvan are in the danger zone this week on the Kiccha Sudeep-hosted Kannada reality show.
Pratham has been nominated for the sixth consecutive time on Bigg Boss 4 Kannada. His irritating behaviour is the main reason behind the inmates' repeated suggestions for his elimination.
However, this time, Pratham was not pushed to the danger zone on the basis of the votes cast by the inmates, but was directly nominated for eviction by captain Niranjan Deshpande. He is most likely to be saved again as he has continued to gain support from fans.
Moreover, the assault on him by Huccha Venkat a few days ago has gained him sympathy. Hence, he is considered safe this week. Coming to other nominees, Bhuvan and Mohan have been involved in all the tasks and that gives them an advantage over Malavika and Karunya Ram, who failed to given their 100 percent.
Going by people's response online, Mohan and Bhuvan's journey in the show is not going to end anytime soon. Followers predict that either Malavika or Karunya will have to leave Bigg Boss 4 Kannada this week. It is because their performances have been negligible, leading fans to suggest their names for the elimination round.
Among the two, Karunya is more likely to make an exit, as she enjoys a smaller fan base than Malavika. So far, Vanisri, Dodda Ganesh, Chaitra and Kaavya Shastri have been shown the door.
Will Sudeep host Bigg Boss 4 Kannada?
Sudeep had announced a few days ago that he would not turn up on the show until Huccha Venkat is punished following his attack on Pratham. "This is my promise to my viewers and the contestants tat I shall only appear again to host only after justice is done [sic}," he had tweeted. It has to be seen whether he will be part of the special weekend episode. If he skips the show, there may not be any elimination this week.