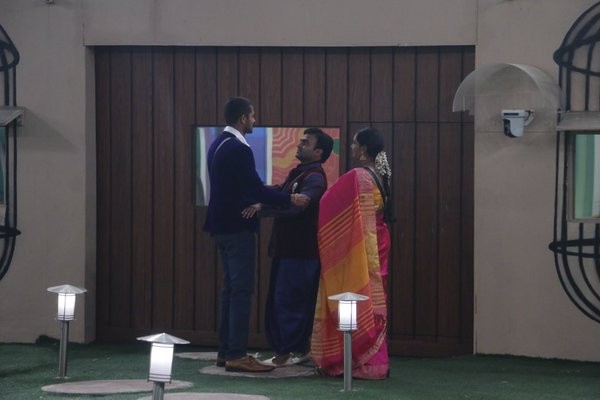 Master Anand, who was the favourite contestant to win the third season of "Bigg Boss" Kannada, has ended up in the third place in the reality show. This has sparked off a debate on whether he deserved to win the title more than the real winner Shruthi.
The grand finale of "Bigg Boss 3" Kannada was shot on Saturday and was aired on Sunday, 31 January. Master Anand, Shruthi, Chandan, Rehman and Pooja Gandhi were the five inmates to have lasted till the end in the Kannada reality show this season.
Master Anand was very popular among the audience and people had high hopes on him to win the "Bigg Boss" trophy this time. The polls leading to the finale had clearly shown that he was the favourite to win. His nearest competitors were Chandan and Rehman and nobody had expected Shruthi to win.
The main reason behind Anand becoming the favourite among the viewers was him being an active contestant in "Bigg Boss 3" Kannada. He was considered to be a sole entertainer in the house. His simplicity and honesty had also won him many fans. But his drawback was his calculative mindset and this had been pointed out by inmates at various occasions. Nonetheless, it was a minor issue, hence, the viewers believed he will emerge victorious.
But the audience was in a state of shock after realising that Master Anand did not win the show and to learn that he was pushed down to the third place in the end.
Even though the exact reason behind "Bigg Boss" ignoring him is not clearly known, it is believed that the love showered upon him by people failed to transform into votes. Like Sudeep mentioned in the grand finale, a candidate may be loved by viewers but the deciding factor is how many votes he receives from the audience over his rivals.
In the previous seasons of "Bigg Boss" Kannada too, the favourites did not lift the trophy. In the inaugural edition, people expected Arun Sagar to win but Vijay Raghavendra turned out to be the winner. In the second season, Akul Balaji won the show while the audience hoped Srujan Lokesh to emerge victorious.
However, Master Anand is getting a lot of support on social media sites. Here, we bring you selected few comments posted by his fans:
Sukhesh Shetty wrote: Deserving people don't always win :( #bigboss3 #masteranand
Gururaj Kulkarni posted: #MasterAnand shld know that at least fr greater K'aka he's d real #Winner of #BBK3. He is an extremely talent & a dignified performer. Want 2 knw how 2 make business ovr some1's talent bt don't appreciate it? Look at #BBK3 and watch #MasterAnand's fate. #SadButTrue
Anuradha Nagarajaiah wrote: @ColorsKannadaTV #BBK3 BBK nodokke inmundhe manse barthilla :( with so many not liking that Shurti won, who would have voted her????
Kiran ‏posted: @kavvinay #BBK3 Totally Agree and ella kannadadigaru (atleast nan kannada friends) ellaru same opinion ide...Rehman & Anand Winners
V95 wrote: drama madi yellaranu alisodake noorentu janaridhare. Adhre yellaranu nagisoke tumba kadime kalavidhariuvaru! #BBK3 @NimmaAnand
3/3 You have made people laugh and have won their heart! This is your priceless win! @NimmaAnand #BBK3
Optopessima posted: So have they announced a talk show with Master Anand yet? It should happen anytime soon just like it did for Arun Sagar and Srujan. #BBK3