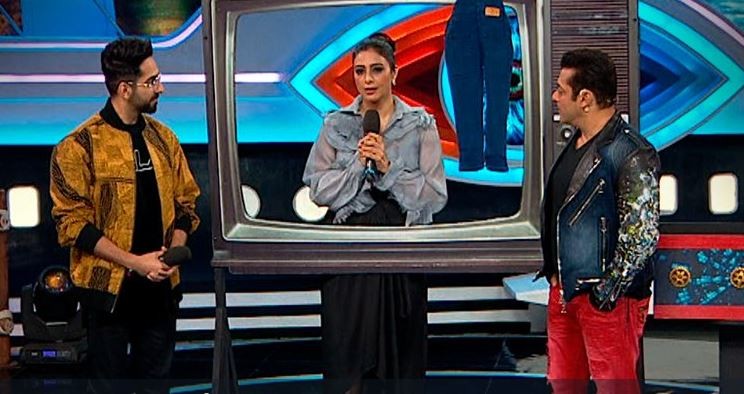 The biggest highlight of all seasons of Bigg Boss has always been its weekend ka vaar episodes with Salman Khan. And with the promo showing Salman announcing double eviction this week in Bigg Boss 12, the stakes are going to be pretty high for the contestants.
While IBTimes poll suggested that audience want Kriti Verma to leave the house, the favourite one for the audience, clearly was television heartthrob, Karanvir Bohra. Dipika Kakkar too received nominal votes against her.
Ayushmann Khurrana and Tabu have bene invited for the second weekend ka vaar, where they not only spend some quality time with the contestants but also ensure a bit of drama and spark, once they leave the house.
Through the promo, we also got a glimpse of Salman's angry side as he gives the celebrities and jodis an earful tonight for being fake and laid-back.
So sit back with some popcorn and fizz, as we cover the high-voltage drama live for you at 9 pm.
Live Updates
2018-09-2922:37 (IST)
Kriti and Roshmi evicted!
Salman declares Kriti and Roshmi's exit from the house. Karanvir is safe. But, stay tuned to know who leaves the house tomorrow as its a week of double elimination.
2018-09-2922:31 (IST)
Who will be evicted?
Who will be evicted in this double elimination week? Stay tuned to find out!
2018-09-2922:22 (IST)
Laughter riot!
Ayushmann Khurrana, Tabu and Salman enjoying a light moment.
2018-09-2922:18 (IST)
Ayushmann and Tabu join Salman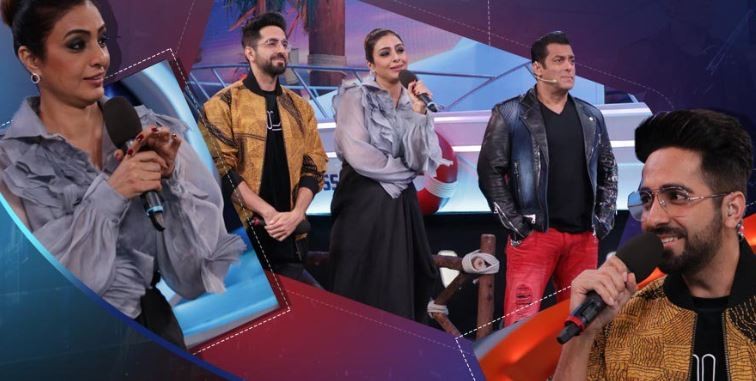 Ayushmann Khurrana and Tabu join Salman Khan on the sets of Bigg Boss 12.
2018-09-2922:07 (IST)
Romil - biggest gunahgaar of the house!
With majority of votes, Romil Chaudhary emerges as the biggest gunahgaar of the house and is sent to the torture chamber.
2018-09-2922:03 (IST)
Salman brings out Sreesanth's plotting
Salman Khan reprimands Sreesanth for planning and plotting against the jodis during the task and later, playing the good-man in front of everyone by saying not to go beyond dignity.
2018-09-2921:58 (IST)
Time for some fizzy sawaal!
Time has come for the Appy Fizz, caller of the week. The caller accuses Sreesanth of playing a double-game within the house during the luxury budget task - Samudri Lootere.
2018-09-2921:56 (IST)
Karnvir Bohra - a political mind
The issue of Karanvir Bohra having promised Kriti Verma about trying to save her from the nominations and later, having used the same reason to nominate her, brings a great deal of unrest and discussions within the house, among the contestants.
2018-09-2921:53 (IST)
Karanvir Bohra losing himself within the house
Housemates accuse Karanvir Bohra of losing himself within the house by trying to balance everyone else and all the situations.
2018-09-2921:38 (IST)
Salman's warning to the contestants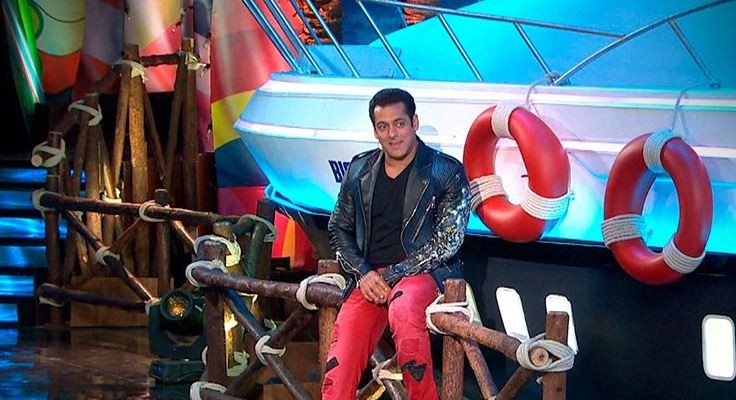 Salman Khan reminds the contestants that they have not come for a vacation and thus should play on their front-foot.
2018-09-2921:32 (IST)
Deepak talks more, works less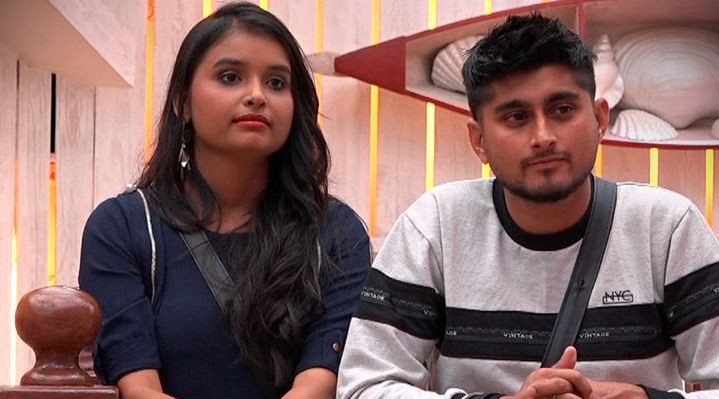 Karanvir Bohra accuses Deepak Thakur of talking a lot, and not working in the house. Karanvir's accusation is supported by majority of the housemates.
2018-09-2921:26 (IST)
Somi takes the blame
Somi takes the blame of tearing up the cushion during the luxury task. She also promises not to resort to unfair means during tasks in future.
2018-09-2921:21 (IST)
Anup Jalota and Jasleen into the katghara!
The blame game begins with Anup Jalota and Jasleen Matharu standing in the katghara. Housemates accuse Anup of not taking a stand and Jasleen of forming group with only those who appear to be stronger.
2018-09-2921:18 (IST)
Salman's weekend class begins!
On being asked who is the biggest entertainer within the house, housemates give maximum votes to the true-blue Bihari lad, Deepak Thakur and his ardent fan, Urvashi Jain. Salman disapproves of the ranking but refuses to change it or let the contestants know the real ranking. Then, Salman Khan gives the contestants an earful for being laid-back and non-entertaining.
2018-09-2921:09 (IST)
Nirmal Singh - part of bhed-chaal
Ayushmann asks the housemates to name one single or jodi they think is a part of a bhed-chaal or get influenced easily. Nirmal Singh receives maximum votes, followed by Saurabh Patel.
2018-09-2921:07 (IST)
Ayushmann enters the house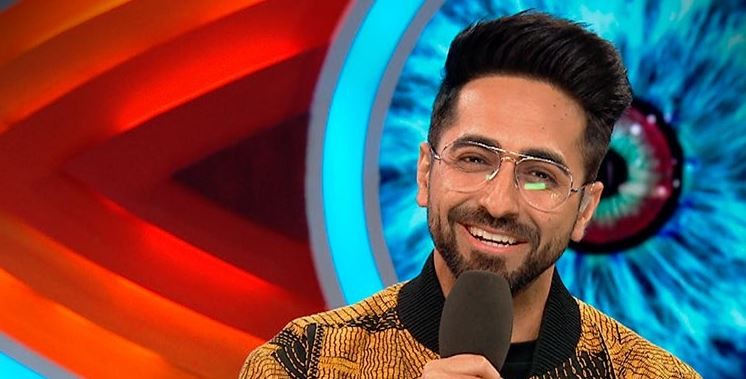 Ayushmann Khurrana enters the house to ignite some drama and fire within the house.
2018-09-2921:04 (IST)
Salman's zor ka jhatka!
Salman Khan announces that this week would have double eviction; which could either be two jodis, two singles, or a jodi and a single.
2018-09-2921:02 (IST)
Salman's dedication to Anup Jalota and Jasleen
Salman Khan dedicates the song - Honthon Se Chhu Lo Tum - to Anup Jalota and Jasleen for their kissing stint.
2018-09-2921:00 (IST)
Back with a bang!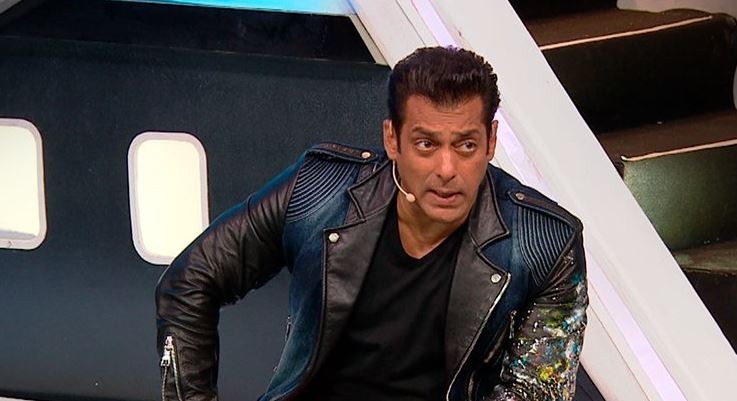 The second week of Bigg Boss 12's weekend ka vaar is back with a bang. The show begins with a dhamakedaar performance by Salman Khan.