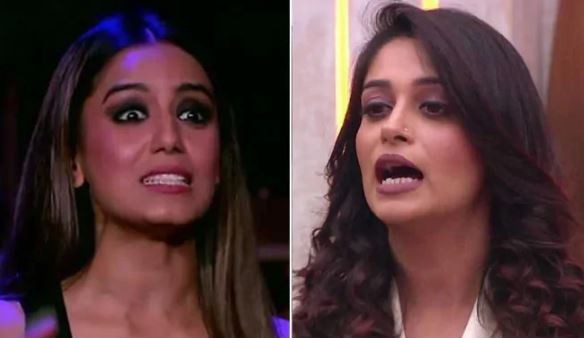 10.00: Surbhi, Romil, Jasleen and Deepak get into an argument again about Romil's attitude. With this argument, Surbhi and Romil's war gets ugly.
09.55: Salman declares that its Srishty who would be leaving the house. Housemates feel that either Rohit or Jasleen should have been evicted. Srishty bids everyone farewell and leaves the show.
09.50: Sreesanth says that he feels Rohit would go out, Dipika says that she feels Srishty would go out, Romil takes Jasleen's name, Deepak names Jasleen. Somi feels Jasleen would leave the house. However, Salman declares her safe from the elimination.
09.40: Surbhi and Jyoti bring 'varmaala' to tie the knot with Salman Khan. Khan asks both the girls to compete and bring up their qualities to win him. Salman dances to 'Jag Ghoomeya' with both of them.
09.35: Romil wins the first round of verbal akhaada against Surbhi. In the second round between Karanvir and Romil, Romil wins again. Celebrities who had entered the show earlier, have now joined Salman Khan on the sets.
09.30: Jasleen dedicates 'Bholi surat dil ke khhote' to Deepak, Deepak dedicates 'lollypop lagelu to' Somi Khan. Sreesanth dedicates 'phoolon ka taaron ka' to Dipika. Next is the time for sultani akhaada. Surbhi nominates Sreesanth to fight against Romil but he declines. Then Surbhi nominates KV for the akhaada.
09.25: After a fun and entertaining evening with the housemates, celebrities leave the show. Salman invites Hemant Brijwasi back on stage. Sreesanth requests Salman to wish his son who has turned three. Salman asks the housemates to dedicate one song from a list of songs to another housemate.
09.20: Deepak Thakur is asked to sing a song and showcase his talent, which he does beautifully. Sreesanth gives a scintillating performance on 'Muqalla Muqabla' and wins over everyone. Romil is called next to give some chatpati khabrein. Rohit is asked whom would he not choose if given a chance to go to the moon. To which, Rohit takes the name of Sreesanth.
09.15: Housemates join the celebrities in the garden area for a fun-filled talent hunt show. Desi boys Rohit Suchanti and Karanvir Bohra dance to the tunes of 'Desi Boys' making all the housemates and judges swoon. Surbhi Jyoti, Anita Hassandani and Kamya Punjabi turn judges for the talent hunt show.
09.10: Kamya Punjabi plays the role of Megha Dhade and makes fun of her 'batate ka kachreya' statement. The celebrities interact with Salman Khan posing as the housemates which ensues a laugh riot. Salman and celebrities make fun of Sreesanth's demand for a round dosa.
09.05: Rising Star winner - Hemant Brijwasi - enters the show and croons for Salman Khan. TV personalities from some of the most popular shows of Colors enter the show as the current housemates. Surbhi Jyoti, who plays the role of Dipika, makes fun of Dipika by trying to make dosas.
In tonight's episode, Colors family would join the Bigg Boss housemates for a fun-filled evening. In a major twist in Bigg Boss 12 Weekend ka vaar, we would see Srishty Rode leaving the house after receiving the least number of votes.