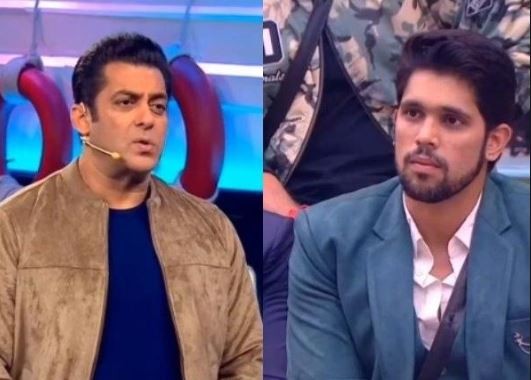 10.00: Farah Khan enters the show and asks the housemates to come to the garden area. Deepak and Somi are asked to dance on Farah Khan choreographed - 'Gerua'. Somi joins Deepak awkwardly and starts dancing.
09.55: Salman sternly asks the housemates how can they say that they are happy for him getting evicted like this. He says that being thrown out of the house is disgraceful and no-one should disrespect Bigg Boss. He also reminds everyone of the contract they have signed.
09.50: Salman informs Shivashish that he has been disqualified from the show and will have to leave the house immediately. Shiv apologises to Salman and says that he deserves such punishment. Housemates bid him adieu. Sreesanth starts crying. Srishty says that she is happy that Shiv left and is happy for him.
09.45: Salman says that Shivashish has been trying to copy Sreesanth's mannerisms but failed to realise where to draw the line. He tells Shiv that even though Sreesanth does things his own way but he completes and accepts all the punishments ultimately. Housemates too join in and say that Shivashish didn't care about them despite Bigg Boss' warning.
09.39: Salman brings the topic of the TRP task and questions their attitude about breaking rules throughout the season. Salman asks Shivashish the reason behind him joining the show. He also asks him the reason behind not going to the jail. Salman tells him that despite Bigg Boss' warnings he didn't change his attitude.
09.36: Jasleen says that maybe her parents have made him say this. Salman says that both of them have given contradictory statements but should stick to their decisions, opinions.
09.32: Salman tells Jasleen that they know there are a lot of questions in Jasleen's mind. Jasleen is sent to a special room where she meets Anup Jalota. He praises her for the way she is playing. Salman enters the room through the TV to talk to Jasleen-Anup. Salman asks Anup to clarify about the video. Anup accepts that there was no truth to their relationship between them. And says they are just like guru-shishya.
09.29: Caller of the week has a question for Surbhi. He tells her that it appears that she has been thrown out of the happy club which she only had made. Surbhi says that since things change everyday the situation and dynamics have changed. But, she is still the same person.
09.26: Salman asks Dipika the reason behind her lack of interest in the task. Salman tells Dipika that it appeared that right after her murder she lost interest in the game. Later, KV is seen talking to the camera and asking Teejay the reason behind why she did it. He also tells her that they have had such a good relationship with Salman and family and why do something like this to ruin it.
09.23: Salman tells him that he has also seen similar days many a times and they should fight it out like men. He also makes fun of Megha for the way she tried to help Sreesanth during the task. Next, Salman asks Sreesanth why he made a deal with Romil during the task.
09.20: Megha and Dipika talk about how they had told KV not to nominate Sreesanth and instead to nominate Romil as he had broken more rules. Salman tells Sreesanth that he cleaned the utensils with perfection. Sreesanth tells him that he was reminded of his days in prison during that task and thus got very emotional.
09.18: Salman tells Jasleen that Anup Jalota is still with Jasleen. Salman also questions everyone why Sreesanth gets targeted always. Salman asks KV why he took Sreesanth's name for cleaning utensils. KV says that he went with the majority. Salman says that Bigg Boss had said that final decision would solely be of the captain.
09.15: Salman makes fun of Srishty and Jasleen about how they could not reach a decision during the nomination task. Salman reveals that Sreesanth had said that he would have given up safety for anyone except for Dipika. To which, Sreesanth says that he feels he could stay safe against other people but against Dipika he too would be in danger as she has many fans outside the house.
09.13: Salman questions everyone and asks why did they think that it was ok for Deepak to give away his safety to Somi but when Dipika did the same it was questioned. Dipika says that she did it to gain Megha's support as the game is reaching towards a crucial level.
09.10: Salman asks Karanvir if he feels bad because of his interaction with him. He also tells him about Teejay's open letter to him which leaves Karanvir shocked. KV says that he feels good when Salman jokes on him and says that he is apologetic for Teejay's letter. Salman tells KV that he would stop talking to him if he feels otherwise.
09.08: Salman decides to give the housemates some fake and some real news. Salman gives everyone a shock by saying that Rs 2000 notes have been banned. Salman also tells them that Ranveer-Deepika and Priyanka-Nick have tied the knot. He also tells them that channel is not being able to sustain or afford the money on the show and thus money has been deducted during tasks.
09.05: Dipika too calls Deepak 'manipulative' and takes his name. Srishty takes Jasleen's name by saying she tries to be in everyone's good books. Surbhi also calls Jasleen a biased supporter and nominates her for punishment. Romil takes Dipika's name by calling her fake. Sreesanth takes his own name and asks Shivashish to hit him.
09.02: Salman himself has said that tonight's episode would be high on intensity and drama. Woah! We all are in for some surprises it seems. Housemates have to take one contestant's name each for punishment. KV takes Sreesanth's name for punishment but he refuses to accept it. Deepak also takes Sreesanth's name. Jasleen takes Deepak's name.
09.00: Salman enters the Bigg Boss stage and takes us through the biggest happenings of the week which includes Megha's obnoxious behaviour towards Deepak, Romil and Surbhi's unhappy fight and Shivashish defiance.
Tonight's episode on Bigg Boss 12 Weekend ka Vaar might prove out to be one of the most intense and dramatic nights on the show. While we had seen how Bigg Boss had nominated all the contestants for next week's eviction after Shivashish refused to pay heed to Bigg Boss' instructions, in tonight's episode we'd see Salman Khan asking Shivashish to leave the house as a punishment.
Yes, you read it right. Shivashish would be evicted tonight owing to his attitude and behaviour inside the house. While some might rejoice this news, many fans have lashed out at Salman Khan and the makers of the show for this partial and unfair decision.
Few fans have also blamed Vikas Gupta for interfering in the Bigg Boss house in order to make his friend, Rohit Suchanti, stay longer.
We would also see Salman Khan angrily informing Karanvir Bohra about Teejay Sidhu's open letter to him and Bigg Boss makers. He would pledge not to talk to Karanvir on the show ever again.
On the other hand, we would also see Anup Jalota making an entry into the house again for a rendezvous with Jasleen Matharu. On being question by Salman Khan, Jalota would deny any relationship aspect between him and Jasleen in front of her.
Whoa! This weekend is indeed going to be full of twists and turns. Keep watching this space as we bring to you live updates from the show at 9 pm.