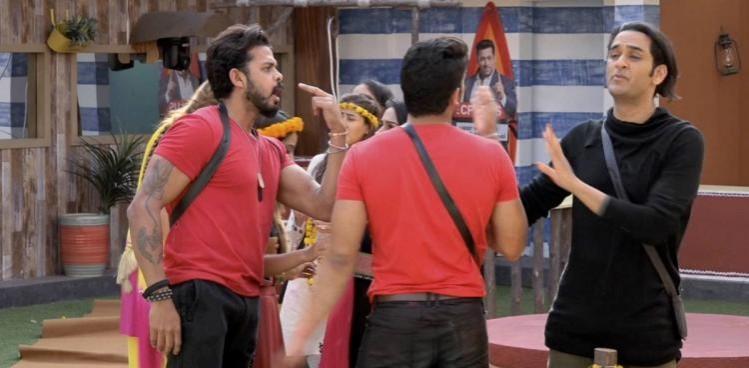 If there's one episode that crossed all the limits of decency, intensity and high-voltage action; it has to be last night's episode of Bigg Boss 12. Not only did we see things turning down and dirty within the house but Sreesanth's fragile and unpredictable behaviour also threw everyone off-guard.
Even though Sreesanth and Karanvir were in one team with Vikas Gupta, Sreesanth objected to Karanvir's involvement in the task. The disagreement soon led to a huge brawl between Vikas Gupta, Karanvir and Sreesanth.
While Vikas called Sreesanth 'loser' and 'badtameez', Sreesanth made comments on his sexuality and called him fake. During the argument, Vikas and Karanvir were trying to protect the items they got to complete the task, while Sreesanth was trying his level best to steal it from them.
Sreesanth had openly declared that he would play for Shilpa Shinde's team and thus went running to snatch the items from Vikas and team. This led to a scuffle between the three of them. Sreesanth threatened to hit Karanvir. And not just that, losing control over his anger, Sreesanth did push Karanvir in such a way that he fell and hurt his hand.
While Dipika, who was also a part of Vikas' team, tried to protect Karanvir from the blows which led to Sreesanth angrily making sexually lewd comments on her. Hurt and visibly shocked, Dipika left the game and went inside crying. Housemates tried to console her but to no avail.
Later, Sreesanth alleged that Karanvir had hit him on his hand with an intention to damage his game and thus threatened to file and FIR against him after leaving the show. Shivashish tried to do some damage control and went ahead to tell Dipika that Sreesanth said that explicit statement in a fit-of-rage and wasn't directed at anyone in particular.
Twitter has been flooded with hate messages against Sreesanth and want Salman to throw him out of the house.