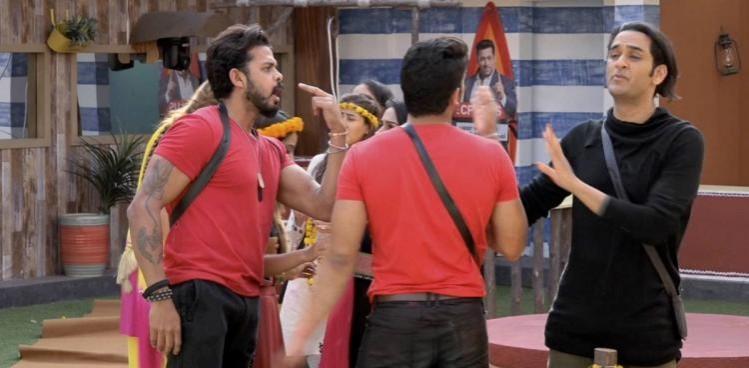 If we could pinpoint and take the name of three contestants around whom the entire Bigg Boss 12 house revolves, the first three names would be of – Sreesanth, Karanvir Bohra and Dipika Kakkar.
Ever since the wolfpack has been dissolved, the trio has come out in the open to play their individual games. While we saw Sreesanth locking horns with Karanvir, Dipika's decision to support the latter has shocked many.
Let's take a look at the highlights of the November 7 episode.
Dipika joins happy club
Dipika approaches Surbhi, Somi, Deepak and Romil of the 'Happy Club' and asks them to support herself and Karanvir Bohra for the captaincy task. They chalk out a strategy to help Karanvir and Dipika emerge as the final names for the captaincy task.
Sreesanth and Deepak's fight
Sreesanth, who is the captain of the house, gets into an ugly fight with Deepak over the keys of the kaal-kothri, which Deepak had hidden carefully from everyone. When he refuses to give back the keys, Sreesanth uses abusive language at him which hurts Deepak and he starts crying. Later, Sreesanth goes to pacify Deepak but, Deepak requests him to never talk to him again.
Sreesanth and Karanvir's fight
Sreesanth and Karanvir get into a nasty fight where Sreesanth ends up bringing KV's family into the argument. Housemates, including Dipika support KV and stand against Sreesanth. While Sreesanth calls KV a 'naag', KV reciprocates by calling him a 'termite'. Sreesanth tells Karanvir that he has lost his gameplan and threatens to inform every one of his deeds outside the house. Bohra taunts him that he has lost 10 years of his life by being banned.
Final nomination for captaincy
Somi Khan, Megha Dhade, Karanvir Bohra and Romil Chaudhary are nominated for captaincy.