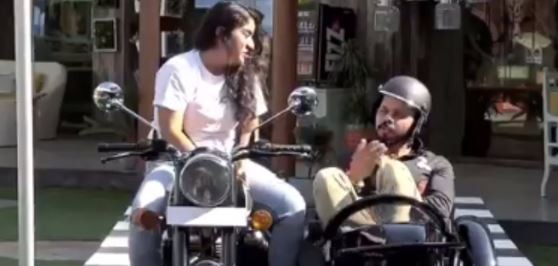 10.00: Deepak says that Megha is helping Sree to get some footage. This causes a fight between the two. Megha threatens to hit Deepak and even takes out her shoe to hit him. Housemates intervene to break up the fight.
09.55: Sreesanth starts abusing Karanvir in English. Bigg Boss asks him to talk in Hindi. Srishty and Sreesanth too get into a fight. Megha goes in and starts helping Sreesanth. Bigg Boss intervenes and asks her to stop doing that.
09.45: Sreesanth says that he will clean the utensils when he feels like. A fight breaks out between Surbhi and Deepak over her decision to support Sreesanth. Megha and Dipika get mad at KV for taking Sreesanth's name as they feel that Romil should have been named instead as he broke many rules.
09.40: As a punishment, BB gives a huge lot of uncleaned utensils to be cleaned. Karanvir decides to send Rohit and Sreesanth to clean the utensils. Surbhi doesn't vote against anyone which irks Deepak. Bigg Boss asks Karanvir to ensure that the utensils are cleaned properly.
09.36: Surbhi is seen discussing about Sreesanth with Karanvir. Karanvir asks her not to take him seriously as he would flip at the next given chance. Rohit is caught sleeping by Bigg Boss again. BB asks everyone to assemble in the living area.
09.34: Srishty and Jasleen are called in next and both refuse to give up. Both of them get nominated. Rohit and Shivashish are called in next. Both get nominated. Rohit, Shivashish, Jasleen, Srishty, Deepak, Sreesanth and Dipika are the seven contestants who get nominated.
09.31: Megha and Dipika are called in next and both refuse to give up the helmet. Megha tries to convince Dipika and she agrees to give the helmet to Megha. Dipika reasons that Megha had saved her once and hence it is a payback time for her.
09.29: Surbhi and Sreesanth are called in next. Both refuse to nominate themselves. However, while discussing both Surbhi and Sreesanth wear the helmet for a few minutes. Later, Sreesanth gives the helmet to Surbhi and saves her. He asks her to support him the next time.
09.27: Somi and Deepak are called first. Deepak asks her to wear the helmet and stay safe from the nomination. Somi asks Deepak to give her a reason as to why should she nominate him. Without much discussion, Somi wears the helmet.
09.25: A 'Jai and Viru' style of bike is parked in the garden area. Once Bigg Boss announces the name, two housemates have to sit on the bike and will get 15 minutes to discuss who among the two would get safe or get nominated for the eviction. If any team fails to reach a decision, both the housemates would get nominated.
09.22: Karanvir asks Sreesanth to clean up the bedroom but he says that he has already cleaned it twice and wouldn't do it again. Bigg Boss asks Sreesanth to wear his mic but he starts abusing Karanvir. A fight ensues between Karanvir and Sree.
09.18: On day 57, housemates wake up to 'Yeh dosti hum nahi todenge...' implying a task involving Jai and Veeru's friendship. Bigg Boss gives the housemates an ultimatum to not repeat their mistakes or break house rules in the future. He also asks Rohit to leave the jail.
09.15: Dipika leaves Srishty and Rohit alone. Srishty asks him not to say everything to everyone. She also tells him that she would talk to him at length when he comes out of the house.
09.11: Jasleen is seen telling Rohit that Srishty looks upset when she is not with him. Rohit says that he has feelings for her but is not sure. Srishty confronts Rohit after Dipika tells her what Rohit revealed to her. Srishty starts crying and says that she had decided not to talk to him. Dipika and Srishty both confront Rohit and he twists his version of the story.
09.08: Sreesanth and Dipika ignore each other. Sreesanth says that from now on she is invisible for him and also asks her whether she trusts him. Rohit is seen talking to Dipika and Jasleen about how Srishty keeps looking at him shyly every now and then. Jasleen asks Rohit about his true feelings for her. Rohit opens his heart out to Jasleen and says that he feels things from Srishty's side.
09.05: Srishty and Surbhi are seen discussing how they have to stay restrained inside the house. Surbhi feels sorry for supporting Deepak but says it's difficult for her to change herself. She also says that she loves herself despite all the flaws.
09.03: As a punishment, Bigg Boss cancels this week's luxury budget. He also asks Sreesanth and Deepak to come out of the jail and asks Rohit to stay inside the jail for undecided span of time until further notice. When Karanvir asks Sreesanth to leave the jail, he refuses to come out.
09.00: Bigg Boss rings the cuckdoo koo alarm to wake up sleeping contestants Jasleen, Romil and captain Karanvir Bohra. Later, Rohit is seen sneaking out of the jail as Deepak and Sreesanth watch him and laugh. In the evening, Bigg Boss calls all the housemates to the living area and reprimands them for breaking house rules.
Every Monday, the Bigg Boss 12 house brings about a lot of chaos, turmoil, fights and arguments. And this Monday is certainly not going to be any lesser on the drama and entertainment quotient.
In a uniquely fun way of bringing about nominations, housemates would be divided into a team of two each and made to sit on the Jay and Viru scooter. After sitting on the scooter, housemates will have to mutually decide whom would they like to nominate and safeguard amongst themselves.
Catch this space for minute-to-minute live updates from tonight's episode at 9 pm.