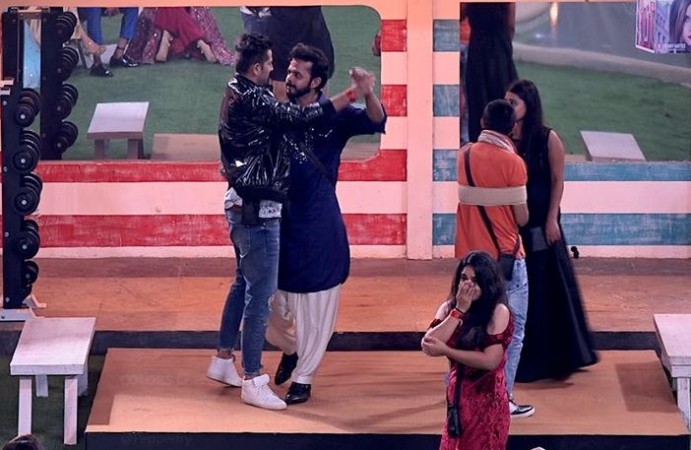 10.00: KV tells Sreesanth that his reasons were genuine and hence he should go to the kaal-kothri without any drama. KV tries to reason with Sreesanth and tells him that even KV had gone to the jail when Sreesanth had taken his name.
09.55: In a major twist, Bigg Boss asks Karanvir to declare three names for the kaal-kothri. KV takes Sreesanth, Rohit and Deepak's name for the kaal-kothri. Sreesanth leaves the garden area, enters inside the house and tells Bigg Boss that he would not go to the jail at any cost.
09.50: Surbhi praises her friends and her group members for being there for her. Salman announces that Somi has been voted out. Surbhi requests Salman Khan to cancel the eviction this weekend. Salman calls Somi back and reveals that since its Diwali week no one would be evicted.
09.45: Salman declares that Deepak too is safe from the eviction this week.
09.40: Salman declares that Romil is safe from the eviction this weekend. As a gesture towards the sacrifice Romil had made for Somi, Bigg Boss invites Romil's wife and toddler son as a surprise for Romil. Romil gets emotional seeing his wife and kid. Housemates too get a chance to meet the little one.
09.35: Srishty raises her hand in favour of Karanvir during the verbal akhaada. Rest all the housemates vote in favour of Sreesanth. It's time for the second round of the sultaani akhaada. Sreesanth emerges victorious in this akhaada too. Sreesanth apologises to Karanvir for everything that has happened between the two.
09.30: Salman advises Deepak to stay away from Somi, Deepak agrees. Sreesanth and Karanvir are called into the sultaani akhaada. It's time for them to battle it out. Sreesanth outsmarts Karanvir with his logics. KV loses the verbal battle.
09.25: Salman interacts with Deepak Thakur's family along with his entire village people. They all cheer for Salman and leave messages to be passed onto Deepak. Salman gives the message to Deepak and asks him to be strong.
09.20: The winning team had to put up a price for winning the immunity medallion. The amount the winning housemate would take would be deducted from the main prize money. Romil wins the immunity medallion.
09.15: Deepak Thakur dedicates a song to Somi Khan. Romil and Sreesanth's bromance leaves everyone laughing out loud. Romil, Surbhi, Deepak and Sreesanth win the task. Preity Zinta announces immunity for Romil and his team.
09.10: Preity Zinta enters the house and divides them into two groups. She then gives them the task of bringing out some romance into the house. Jasleen and Shivashish are the first ones to shake their legs on a romantic number. Rohit and Srishty's chemistry during the dance leaves everyone in awe.
09.05: Salman Khan orders the housemates to do some naagin dance. What ensues is a fun riot. Next, Salman orders Jasleen to put all her makeup inside the store room and then asks the housemates to get ready for an exciting task.
09.00: Salman Khan turns Bigg Boss for one day. Salman asks the housemates to dance in fast motion on 'Baby Ko Bass Pasand Hai'. The dance leaves everyone in splits. Next, Salman asks housemates to wax some arm hair from Deepak's hand. Housemates enjoy the task while Deepak cries in pain.
Romil Chaudhary, Somi Khan, Surbhi Rana and Deepak Thakur are nominated for the weekend ka vaar elimination. Who would get evicted tonight?
Read the live updates from the entire episode live at 9 pm.