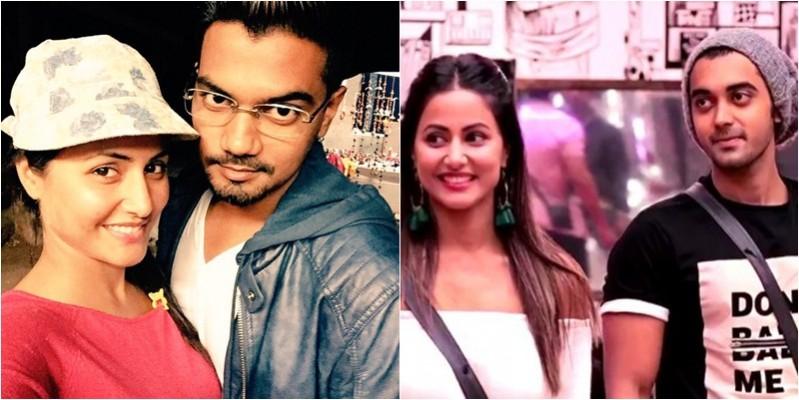 Bigg Boss 11 contestants Hina Khan and Luv Tyagi have been good friends inside the house for quite some time. But some rift happened between the two after he got to know about Priyank Sharma and Hina talking about he having a soft corner for the actress.
Although Luv had denied having any such feelings for Hina, her boyfriend Rocky Jaiswal too feels that he could be having a soft corner for her, which according to him is natural.
Rocky said that it is natural for Luv to have a soft corner for Hina; if he could fall for her, anybody can.
"First of all, Luv has no one-sided love. Maybe he has some soft corner but that is quite natural. I fell for Hina, anybody can fall for Hina. So, it's not a big deal. And he's again going to get back to Priyank and Hina," he told Bollywoodlife when asked his comments on Luv's alleged one-sided love for Hina.
Talking about Luv's angry reaction to Priyank and Hina for discussing him, Rocky further said that this was a repercussion of other contestants' attempts to create rift among the trio. However, he again said that Luv's anger is just momentary and he will soon get back to his "real friends".
The conversation on Luv happened between Priyank and Hina when the lady told him that Luv had left a "get well soon" note on her bed when she was unwell. Priyank then said that Luv maybe having a soft corner for her.
Hina too agreed to Priyank's comment, and even added that it is natural but as she already has a boyfriend outside, Luv has been hesitant to express his feelings openly. However, Luv later had maintained that he looks at Hina just as a friend.
Bigg Boss 11 is moving close to its finale, and the game has been getting interesting every passing day. Apart from Hina, other contestants who are believed to be the strongest contenders are Shilpa Shinde and Vikas Gupta. However, as we all know, anything can happen in Bigg Boss.