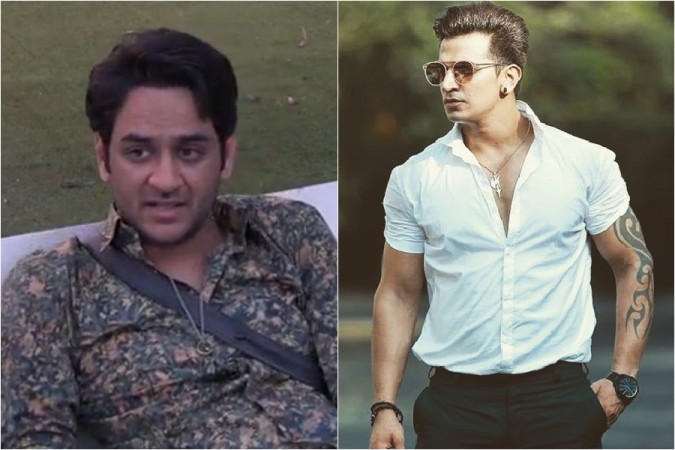 Prince Narula is currently touted as the King of Reality Shows after he proved his mettle on the small screen and won three reality shows in a row. The television heartthrob is now enjoying a successful career and a huge stardom that has made him come a long way with his own share of
struggles. But do you know who is behind Prince Narula's success? It is none other than Vikas Gupta. How? Just read on.
In an unseen video of Bigg Boss 11, Vikas Gupta, who is currently being considered as one of the strongest contestants of this season, opened up about Prince and his dedication towards work like never before.
"Among all the people with whom I have worked with till date, there is no one who has shown the kind of dedication and loyalty that Prince showed towards me," Vikas tells Hina, Hiten and Luv Tyagi while sitting in the garden area.
Vikas also helped Prince in making the right decision after his successful stint in MTV Roadies X2. He later went on to become one of the gang leaders in MTV Roadies Rising (Roadies X4).
"After he (Prince) won Roadies X2, Karan Kundra came to me and requested a lot for Prince in making the right decisions. I told him not to sign any of the projects and asked him to wait till a good project comes your way. And he listened to my advice and waited for almost three months," Vikas said.
Then, Vikas suggested Prince to do Splitsvilla 8 despite knowing the fact that Roadies contestants weren't allowed to appear on the dating reality show. And Prince readily agreed and came out of the show as the winner of the eighth season.
After winning Splistvilla, Prince started getting many small offers but Vikas told him to reject all of those until he was offered to come on Bigg Boss 9.
"Then he (Prince) got Bigg Boss offer but Rannvijay Singha asked him to reject the offer. Rannvijay even called me to ask Prince to reject Bigg Boss. Prince then came to me and I asked him to choose between me and Rannvijay. He agreed with me, he did the show and luckily won Bigg Boss 9 as well," Vikas said.
Vikas also revealed that Prince got a lot of big offers after winning Bigg Boss but asked him to wait till the right show comes and said that he sat at home for six months. He later bagged &TV's Badho Bahu which became one of the hit shows on the channel.
However, the only thing that Vikas feels wrong about Prince is that he didn't maintain his relations with Colors channel and could've done more shows with them.
Click here to watch the unseen video of the Bigg Boss 11.