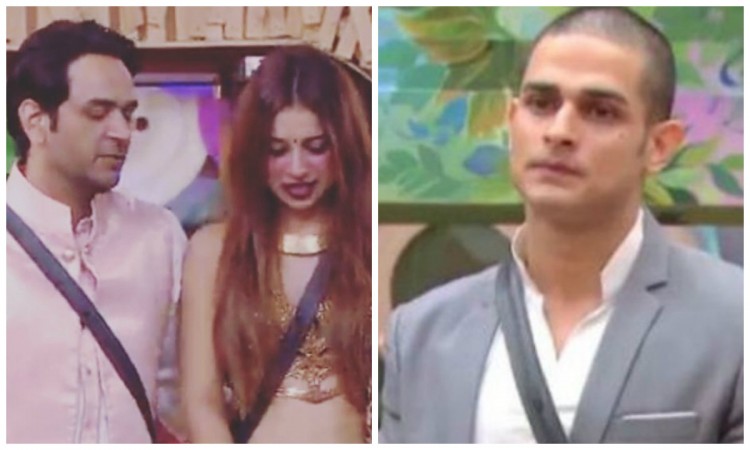 The recent luxury budget task in Bigg Boss 11 caused a lot of hue and cry among the contestants. One of the highlights was Vikas Gupta slamming Priyank Sharma in the pretext of the task.
As per the task, Vikas was required to instigate anger in Priyank, and for that he made serious allegations on him. He told Priyank that he had run a fake relationship with Divya Agarwal on Splitsvilla, and he played the same game with Benafsha Soonawalla on Bigg Boss 11.
Vikas further said that Priyank used Benafsha to hog limelight in the show, and ridiculed him for calling her just a friend, and then sharing bed with her. Vikas continued his barrage saying that it is due to Priyank that Benafsha got evicted from Bigg Boss 11, and that he hardly respects women.
Although Vikas said all these as part of the task, the words appeared to have come from deep inside, considering his and Priyank's current equation. Nonetheless, Benafsha has now reacted to Vikas' words, and interestingly she also supported him and not Priyank.
Ben took to Instagram, and posted a thank you note for Vikas, adding that he has now got a friend for life in her. She also wrote that many of the things that he told Priyank are the same that she wanted to tell.
"VIKAS GUPTA YOU FAAAACKIN BEAUTAAAAYYYYYYY!!! Yes for certain things you were way out of line yesterday but this post is about me and you, not the whole task. Some things that you said yesterday (SOME, NOT ALL) make me want to cry. The way you've stood up for me even when I'm not in the game anymore. You've found a friend in me for life. This is for fu..ing ever. Dil ka boj halka kar diya tune kal VG. This is like telepathy. SOME things that you said was literally like me speaking instead of you. You spoke ABOUT ME, FOR ME, and most importantly, WITH ME. Couldn't do much for you in the game (because IMAAAA FOOL) but from hereon Ben's gonna be there for you for life. Teri bawi misses you and loves you VG. Meri jaaaaan hai tu! Thankyou. #heislostnomore#lostandfound," Benafsha posted with a picture of her and Vikas.
Priyank and Benafsha were two of the closest contestants of this season. They were often seen getting cozy, but they had always called themselves to be just good friends. However, their closeness had raised many eyebrows, and both of them had faced much backlash, both inside and outside Bigg Boss 11.