Benafsha Soonawalla and Priyank Sharma's closeness is the reason why Divya Agarwal called off her relationship with her former Splitsvilla 10 connection. And it looks like even Benafsha's boyfriend Varun Sood, who has been supporting her since the beginning, has started feeling insecure about his relationship as well.
In a shocking turn of events, Varun Sood has now asked his fans to vote for Sapna Choudhary and Hina Khan and not for his girlfriend Benafsha as he thinks her image has gone for a six and the game ruined her.
Varun, who had been constantly requesting his fans to vote for her, now wants her to come out of the house and wants to talk to her in person about the things she has been doing inside the house. He has also removed Benafsha's voting link from his Instagram bio.
We got our hands on Varun's private chat which clearly tells us that he is in a terrible mood and would want to ask Benafsha about her growing closeness with Priyank Sharma on the show.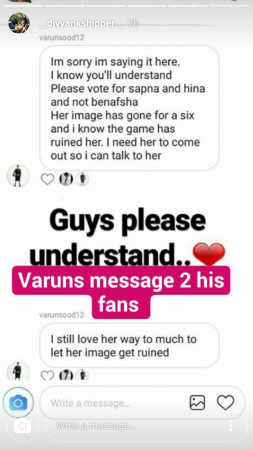 We are still wondering why would Varun ask his fans not to vote for Benaf as he has been supporting her eversince the show began and wanted her to come out as the winner.
Is this chat real or not, only Varun could tell. But if you look at the picture closely, the Instagram ID in the chat looks the same as that of Varun Sood -- "varunsood12".
A few days back, when we asked Varun whether he was feeling insecure about Benaf, he told us, "Not at all, I trust her. I trust her on a different level all together. I am pretty sure there's something more this which hasn't been shown. And when she's out, I'll ask her. I am a guy who doesn't jump into the conclusion. I am a sorted guy in the head and I shall wait 60 more days she'll come with the trophy, then I'll ask her. That's not an issue."
But going by his chats, it looks like Varun is indeed having butterflies in his stomach over the goings on in the house.
Now, it remains to be seen whether Varun would call off his relationship with Benafsha or will he confront her once she comes out of the Bigg Boss house. Let's wait and watch.