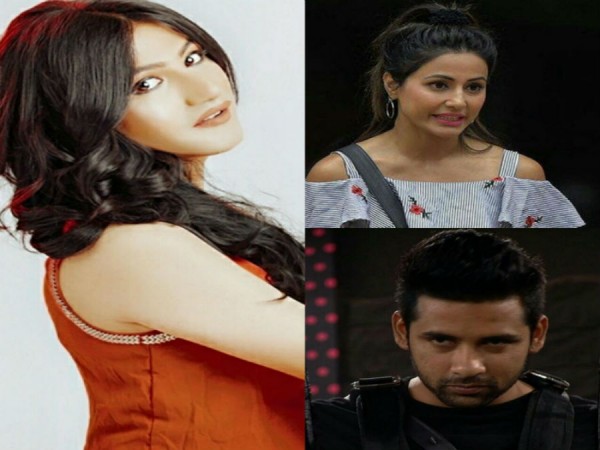 Bigg Boss 11 contestant Hina Khan has lately been both criticised as well as praised. Her behaviour inside the show is being closely scrutinised by all, including model-turned-actress Mahika Sharma, who is the latest to come out in support of Hina.
Mahika thinks Hina is a little "Barbie Doll", and has said she is one of the most genuine contestants in Bigg Boss 11. On the other side, she slammed Puneesh Sharma, calling him fake and a "roadside guy" — a derogatory phrase used to describe an uncultured or uncouth person.
"Bigg Boss is a must-watch reality show for me. I enjoy watching the episodes. I find Hina Khan sweet, gorgeous and quite a genuine person in the house. She is a little Barbie doll, and I enjoy watching her," Mahika told International Business Times, India, over email.
The Miss Teen Northeast continued to praise Hina, saying she wants her to win Bigg Boss 11.
"It's a fact that none of us can be as good as saints all the 24x7. We have gossip, commit mistakes and try to prove ourselves correct. So why are we judging her? At least she is not a bad as Swami Om. And yes, it's a game and not a process of getting a character certificate. I support Hina Khan and want her to win the show for being quite genuine," Mahika said.
Hailing from Tinsukia in Assam, Mahika lashed out at Puneesh and called him illiterate. She also said the already-evicted Sapna Chaudhary deserved to be on the show.
"I don't know on what basis he [Puneesh] entered the house. With a fake identity, I feel. He fakes a very wealthy or royal lifestyle. Look the way he talks and acts. [His behaviour] seems like that of a local roadside guy. I think the man should be evicted as soon as possible," she said.
"Sapna actually deserved to be in the house. It seems Bigg Boss wanted the off-colour scenes so he gave Bandgi the power to save her partner from eviction," Mahika added.