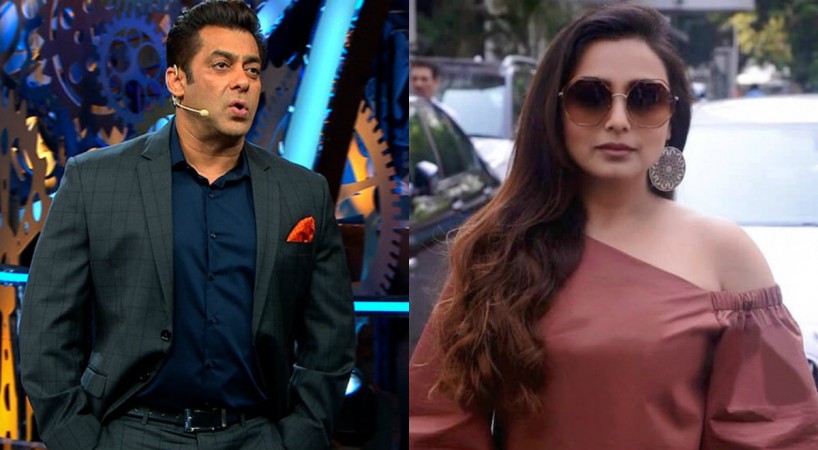 Bigg Boss 11 welcomes celebrities every weekend to promote their movie. This time, it is Salman Khan's close friend Rani Mukerji who will appear on the show to promote her movie, Hichki.
According to Hindustan Times, Rani will come on the show this Sunday. A source told the daily: "Rani will be seen with Salman to promote her film, Hichki."
"The two have shared an amazing relationship for decades. In fact, Rani has worked with Salman in seven films so far. Rani and Salman have been extremely fond of each other for years. They are a riot together and it will be amazing to see their crazy sides on TV."
After a two-year sabbatical from movies, Rani Mukerji is all set to make a comeback with Siddharth P Malhotra's Hichki, which is produced by Yash Raj Films. The recently released trailer introduced us to a completely different side of Rani who after her hard-hitting role in Mardaani (2014) looks quite refreshing on-screen.
The trailer showed Rani, an aspiring teacher named Naina Mathur, suffering from Tourette's Syndrome, a nervous system disorder involving repetitive movements or unwanted sounds called tics. The staff of an elite school suggested her to find a job in another profession since they think she is not fit for this profession because of her neurological condition.
As the movie revolves around Naina's struggle with her disorder while teaching the students and giving them their right to education, the story chronicles the events of how she turns her disadvantages into opportunities, staring down at challenges and ultimately winning over them.
The story rides completely on Rani Mukerji's shoulders and she pulls off her part with conviction. Shivkumar Subramaniam, who locks horns with Rani's character in the film, makes his presence felt with his method acting as an arrogant principal of an elite school with patriarchal beliefs. Neeraj Kabi, as always, does magic with his acting prowess.