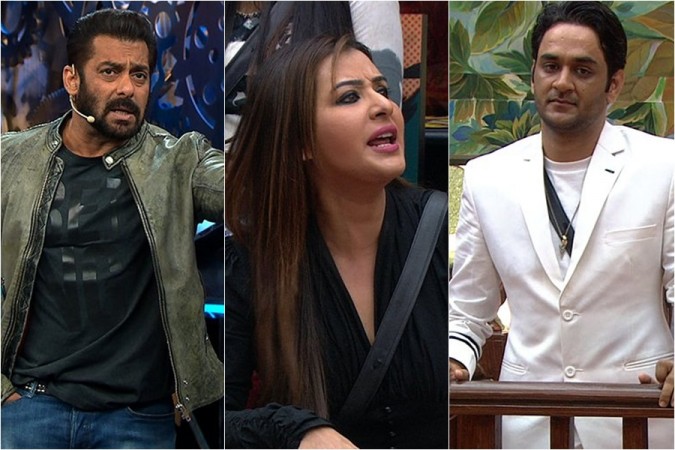 Bigg Boss 11 viewers have witnessed Vikas Gupta and Shilpa Shinde locking horns in the house since Day 1 because of their personal differences.
Shilpa has been constantly attacking Vikas with insensitive remarks, which even made the latter consider quitting the show because of her.
While their spat turns ugly with each passing day, Salman Khan had to intervene in the Weekend Ka Vaar episode on Saturday, November 4.
Salman slammed Vikas for his escapist attitude, saying that he was exactly weak but a strong enough a character toget Puneesh Sharma to urinate in the task for captaincy.
The Dabangg Khan also lauded Vikas for his patience on the show and asked Shilpa not to discuss personal matters on national television.
Vikas was made to stand in the box for the accused, where he argued that he doesn't want to get into arguments related to his personal life, and thought that it would be better for him to quit the show.
Vikas also admitted being in a relationship with Shilpa during her stint in Bhabi Ji Ghar Par Hain, when he was asked to comment on the casting couch that Shilpa hinted at.
The former Angooori Bhabhi had also blamed Vikas for her ouster from the comedy show, post which she didn't get any work for almost two years.
When Salman asked Vikas what would he do if there were no cameras in the house, he instantly replied that he would tie up Shilpa Shinde and ask her to divulge the real reason behind the grudge she holds against him, adding that no one speaks the truth in front of the camera.
Salman came out in support of Shilpa when she narrated her side of the story. He admitted that it is quite natural for both of them to have bitterness after the unfortunate episode in the past.
Salman told other housemates to stay out of Shilpa and Vikas' fight, and even jokingly asked both of them get married. And if their marraige becomes successful, then he will also think about his marraige, he said.