Bigg Boss 11 has become a war zone, where you will see a big fight every day for silly reasons. But this battleground also has a Romeo and Juliet who are seen romancing at night.
They are Puneesh Sharma and Bandgi Kalra. These two have been attracted to each other since the beginning. Despite having a boyfriend, Bandgi is involved in a romantic relationship with Puneesh in the house.
On day 25, Bigg Boss 11 captured a "lovey-dovey" moment between the two lovebirds. When lights were out and people went to sleep, Puneesh and Bandgi were seen indulging into some "dirty talks."
Both of them were lying on separate beds facing each other. Puneesh told Bandgi: "If you feel scared at night, then you can come to my bed." He then requested Bandgi to sleep with him on the same bed.
"Come to me please, you have not kissed me goodnight," Puneesh said. Bandgi too continued this conversation and asked Puneesh to caress her hair.
The hunk got up from the bed and sat in-between their two beds to fulfill his lady love's wish. We wonder what Bandgi's boyfriend must be thinking after seeing all this.
Bandgi and Puneesh are getting closer day by day. Both were seen holding hands and Puneesh repeatedly kissing her hands.
A few days ago, Bandgi's boyfriend Dennis Nagpal had posted a picture on Instagram which said: "I have removed all the pictures of Bandgi Kalra. Please don't ask why. I don't have pictures with her if we were dating. P.S. She never deserved me."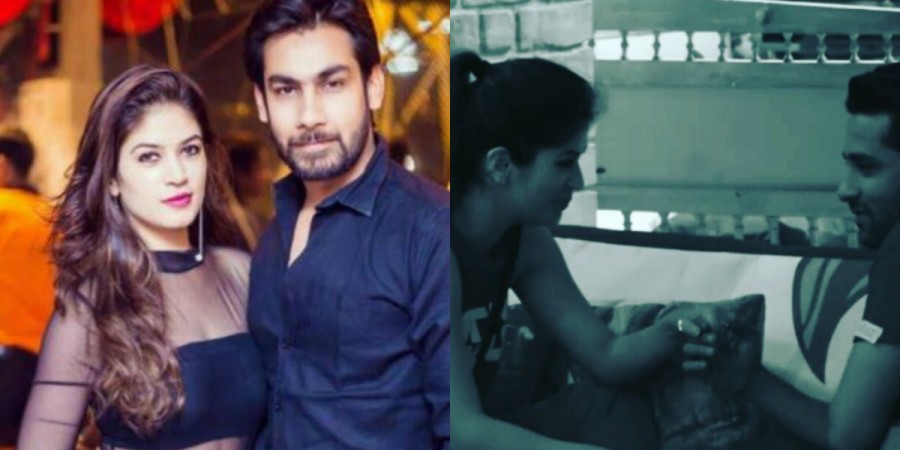 It is sad how relationships inside and outside of Bigg Boss house take a drastic turn within some time.
Dennis has been retweeting the fans' comments about Bandgi and Puneesh's affair. A user asked: "Would have been great if you enter as a wild card entry." To which he replied: "I won't mind."