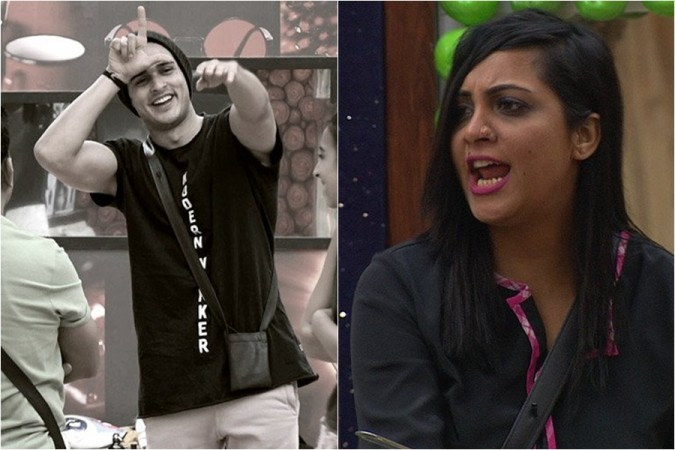 Bigg Boss 11 contestants Priyank Sharma and Arshi Khan have had frequent fights inside the house, and the two apparently cannot stand each other. Looks like these Bigg Boss 11 fights have now spilt into the world outside too.
Arshi's publicist Flynn Remedios has alleged that some of Priyank's fans in Mumbai assaulted him. In an email to International Business Times India, Flynn said that he came across some of Priyank's fans on the road, who attacked him for questioning them for making derogatory comments on Arshi.
It all happened on Monday at 10 pm at Lokhandwala when he heard four 20-something-year-olds started talking about Priyank and Arshi, using foul words, said Flynn.
"I was waiting outside Infinity Mall at Lokhandwala for an auto rickshaw. Standing next to me were four youths who were smoking and very animatedly discussing Bigg Boss 11, and were talking about Priyank Sharma and Arshi Khan.
"When I heard the word Arshi Khan my curiosity was aroused and I stood there, pretending to hail an auto, all the while listening attentively to the four youth. They were discussing about using auto bots and fake accounts to trend a hashtag on Twitter to support Priyank. They were also discussing how fake accounts on Facebook could be used to promote positive news related to Priyank and downplay the other contestants. The only disgusting fact was that they were using very abusive words against Arshi Khan and Shilpa Shinde and at one stage one of them said 'woh toh teen hazar mein sone wali aurat hein' referring to Arshi Khan. This got my goat and I spontaneously lashed out at the four youth and screamed at them that they must not speak about a woman using such derogatory and vulgar words," Flynn said in the email.
As soon as he introduced Arshi as his "daughter" to Priyank's fans, they allegedly attacked him mercilessly.
"They asked me who was Arshi Khan to me and I said 'she is my daughter'. Without any warning, the four pounced on me and started hitting me with punches and kicks. I was slapped, punched and kicked for about a minute. Fortunately, a Police van was passing by and I yelled POLICE. The youth turned, saw the police vehicle and ran towards Adarsh Nagar," Arshi's publicist said.
However, Flynn does not intend to file any police complaint against the attackers as he feels that filing case will take a lot of time, which he does not want to waste.
"I do not intend to file a police complaint as it will be a huge waste of time. I have absolutely no idea who the youth are. What is very surprising is the fact, how they just pounced on me, when I said I was connected to Arshi Khan. Maybe they got infuriated because I had heard their entire conversation," he concluded.