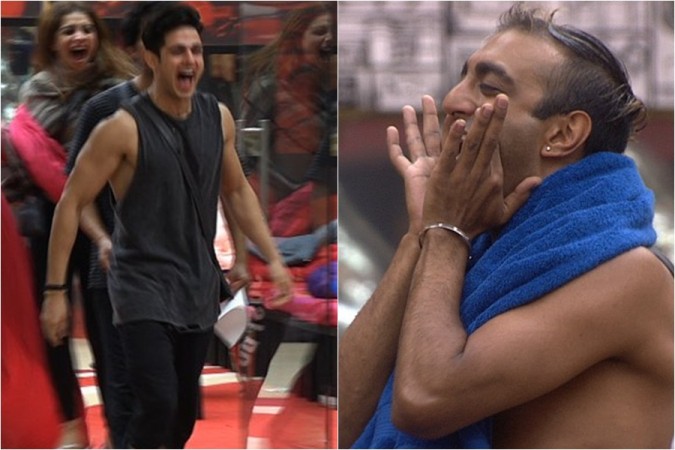 Bigg Boss 11 has been witnessing several fights of late. In the last episode, Priyank Sharma and Arshi Khan had a major spat after which the latter broke down.
The fight between Arshi- Akash Dadlani and Priyank Sharma-Benafsha Soonawalla from the last episode is not resolved yet and the upcoming episode will feature another major brawl.
According to the preview, the next clash will involve many contestants and it is said to be the biggest fight of Bigg Boss 11. Akash and Benafsha will get into a spat as the latter says that Akash did a big mistake by pulling her into the last episode's fight.
On the other hand, Puneesh will lose cool over Priyank. He will also lash out at all the contestants after some allegations are made on him. We wonder whether it will be about Bandgi Kalra and Puneesh's kiss episode.
Priyank and Hina Khan were seen discussing the 'kiss' thing, where Hina called it gross. In fact, the recent fight will somehow involve Hina as well, who actually manipulates people by saying that Akash did a wrong thing by calling Benafsha 'gandi' and 'badbudaar'.
After the entire episode, Puneesh is seen in tears and "girlfriend" Bandgi consoling him. The other contestants seem to be busy stopping the fight and defending themselves.
This week, five contestants are nominated. Bigg Boss asked Puneesh to give nine names of housemates who he thinks are not eligible to stay in the house.
Among those nine, the contestants were asked to nominate and there are now five inmates who are in nomination list.
The nominated contestants are Sabyasachi Satpathy, Priyank Sharma, Sapna Chaudhary, Mehjabi Siddiqui and Benafsha Soonawalla.
Watch Bigg Boss 11 preview here: