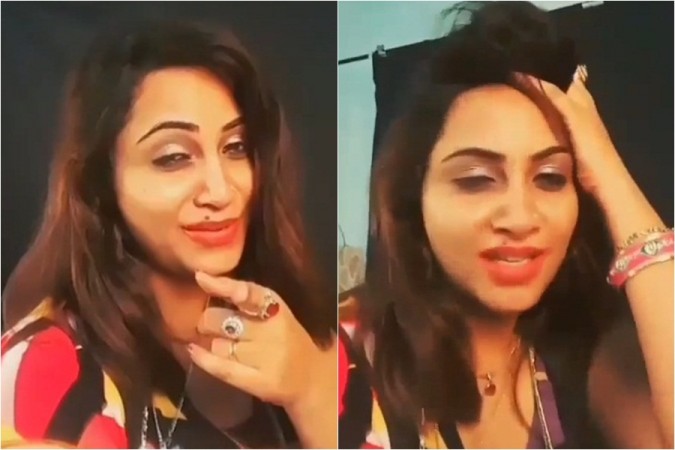 Arshi Khan, the Bigg Boss 11 contestant who has been evicted from the house, was in the news for all the wrong reasons thanks to her scandalous past. From getting banged by her female friend to stripping down on camera, many of her controversial videos found their way on the internet during her stint in the house.
But even after eviction, it looks like there's no end to Arshi's videos that are surfacing on social media at regular intervals.
In one such video that has now gone viral on the internet, a possibly drunk Arshi Khan can be seen sharing her miseries in her own inimitable way. She is seen addressing former Pakistani cricketer Shahid Afridi, with whom the controversial queen had claimed to have had an intimate relationship.
In the short Instagram video, Arshi says: ''Arshi badnaam hui Afridi tere liye. India bolta hai Pakistan jao, Pakistan bolta hai idhar aao, ab mujhe apnaega kaun? Tum? Kaun tum?"
Loose translation: "Arshi got a bad rep, thanks to Afridi. India says, 'Go to Pakistan.' Pakistan says 'Come here.' Who will accept me now? You?"
However, her publicist and manager Flynn Remedios has said the video is fake.
Remedios said it was a fun video shot by a photographer friend 2.5 years ago at a private party, which has maliciously re-edited by the Instagram handle to show only a small portion to paint Arshi Khan in bad light.
"This is unauthorised, defamatory and illegal and we are considering legal action against the person who has uploaded it as well as those who have republished it," he said.
Remedios also stated Arshi Khan's legal team is filing an FIR against those who have uploaded fake, unauthorised, private, leaked or vulgar videos of her without permission.
"Arshi Khan had auditioned for some roles at the beginning of her career three years ago. Those audition videos are now being uploaded on YouTube without permission or authorisation. When a model auditions for a film and is not selected, the audition video is to be deleted. But some unknown, unscrupulous production houses are trying to make money by uploading such illegal, re-edited videos without Arshi Khan's permission," her publicist said.
After her eviction, Arshi was seen crying profusely in a video and was seen expressing her gratitude to Vikas, as she requested her fans to support him. She ended the video by saying: "Love you, Vikas Gupta."
Arshi was evicted from the seven contestants who were nominated, the other six being Vikas Gupta, Priyank Sharma, Luv Tyagi, Puneesh Sharma, Akash Dadlani and Shilpa Shinde. Although she was considered one of the most-loved contestants on the show, Arshi was eliminated for getting the least number of votes.
Arshi subsequently said she was expecting to reach the finale. "It was really shocking and to some extent I am disappointed to be out of the Bigg Boss show. If I say I am not upset and angry, I would be lying, who will want to get evicted when there are only two weeks left for the finale. I was expecting to go in the finals," she said in a statement.