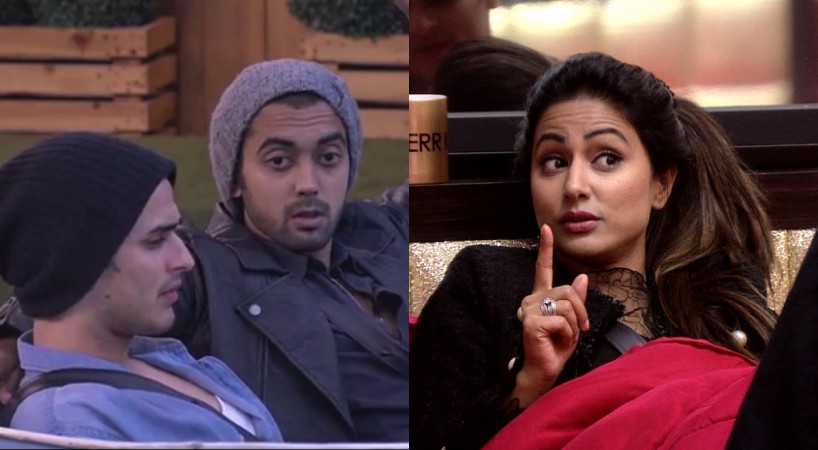 Two more weeks for the reality show Bigg Boss 11 to come to an end. With Arshi Khan now out of the house, there are only 7 contestants in the race to the grand finale.
In the recent nominations task, the housemates had to accurately track a total of 42 minutes with no watch clock or sun-dial to assist them in a dome.
Adding to the complication, the rest of the contestants have to distract the one inside the dome and stop them from pressing the buzzer and exiting the dome on the 42nd minute. Only the contestants who manage to perfectly keep track of time will be safe from nomination this week.
Remember how Priyank and Luv in a strategic move made Hina Khan the captain hoping she will save both of them in the coming nominations.
The funny part is Bigg Boss played the game. So, Priyank and Luv were the only ones who couldn't track their 42 minutes inside the dome. Their captain Hina too couldn't manage to save them.
As it sounds hilarious, the fans' reaction will leave you in splits. They trolled Luv and Priyank, who tried to become heroes by saving Hina and not making Shilpa Shinde the captain. In Shilpa's words, it is their "karma."
Karma #khelgaya agn.. Luv n Priyank chose Hina as d captn so dat she cud save eithr/both 4m nominatns n 2dy d whole house is safe except dese 2??!!! Dis is definitely Karma seasn.. #HinaKhan #BB11 Hina rocks ?✌️

— Megha Dulani (@DulaniMegha) December 26, 2017
Surprises! Hina becoming a Captain (when Shilpa gave up) VG's leap to semi-finale (felt unfair) Priyank n Luv's nomination, Akash's luck.. OMG! Padosi, I think, may have to bid adieu. I think keeping votes in mind tasks and nomination processes r planned. Top 3 is clear. 4/5 APP

— Chitra Parthasarathy (@Chitraaol1998) December 26, 2017