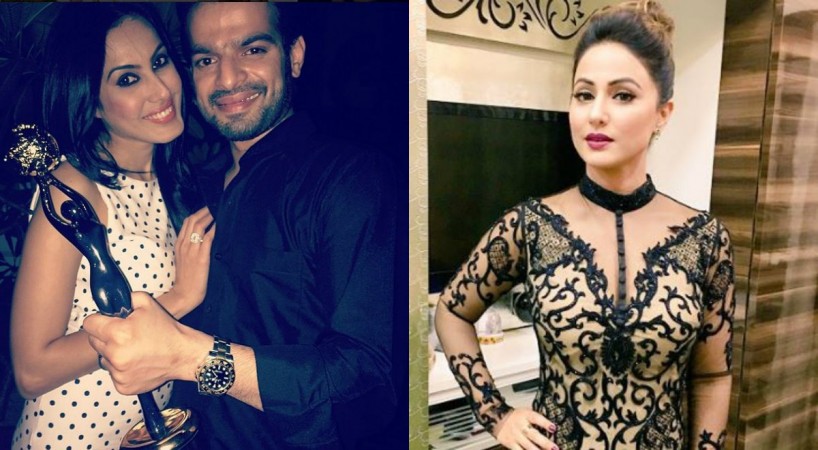 After TV actor Karan Patel, now his ex-girlfriend Kamya Punjabi has slammed Bigg Boss 11 contestant Hina Khan for her behaviour in the house.
Kamya took a dig at Hina on Twitter as she made a comment on ex Bigg Boss contestant Manveer Gurjar's post.
Manveer tweeted: "Book:- Dude पहले मेरे जैसा बन के दिखाओ Page:-713 आज @eyehinakhan मैंने दूध का डब्बा चुराया! चलो बोलो कौन कौन बनेगा मेरे जैसा? @ColorsTV @lostboy54."
To this, Kamya said: "Haaye tauba aur kya kya dikhayengi yeh #SachhaiKiDevi between @imanveergurjar book n page was epic cant get over it page 713 #BB11"
It looks like Hina Khan has earned quite a few haters inside and outside the television industry. While Kishwer Merchant, Sayantani Ghosh, and Gauahar Khan have slammed her on social media, Karan Patel's tweet offended her boyfriend Rocky Jaiswal.
The Yeh Hai Mohabbatein actor bashed Hina and said: "Woh jo mohotarma hai #BigBoss11 ke ghar mein jo baat baat mein #ThankYouGod aalaapti hai, jo aaj hajaam bani hai, koi unse pls pooch ke bataye ki#YehGhatiyapanKyaKehlataHai. He had tweeted a string of hashtags to complain about her behaviour – #KitnaGandaKhelKhelogiMadam #Sick #Sadistic #Disgrace .. #BholiSuratGandiNeeyat ..! #FakeToTheSoul."
Soon after, Hina's rumoured boyfriend Rocky Jaiswal, who has been supportive of her since the beginning of the show, got into a Twitter war with the actor by sharing a video of his ugly fight during Box Cricket League last year.
Rocky captioned the video as: "Nakli Ball se Box k andar cricket khel ke itna accha pradarshan? Imagine what will happen if he's in @BiggBoss. Yeh loh yeh toh #AurKabaadHoGaya abb batao#YehGandhapaKyaKehlataHai Mr. #FaketotheSoul preach karne se pehle practice karna seekho #Sickman#BologeTohSunoge".
Really Rocky? People are not blind and the wise ones know how Hina is inside the house.