Bigg Boss 11's drama has reached, or maybe stooped to, a new level. After the many fights we have seen, a recent video shows Puneesh Sharma and Akash Dadlani fighting like cats and dogs.
ALSO READ: Bigg Boss 11: Woah! Akash Dadlani forces Arshi Khan to wear just a 'Towel'; watch what happens next [VIDEO]
In today's episode, things seem to heat up much further as Puneesh and Akash start arguing over breakfast. In a fit of anger Puneesh throws food that was cooking on the stove. Both he and Akash continue flaring at each other and Puneesh then threatens to physically harm Akash; to the point that he removes his footwear to throw at his former friend. Gharwale intervene in the nick of time, but it seems that this friendship is now permanently ruined and Puneesh vows to take this enmity between them even beyond the walls of Bigg Boss 11.
Check out the video here:
What led to this?
Well, Akash and Puneesh were like best buddies in the house, but captaincy tastk ended their friendship. Akash, who always stood in support of his friends and especially Puneesh, was betrayed by his own friend.
Akash Dadlani tried to convince his best friend Puneesh to make him the captain. But Puneesh had to eliminate Hiten Tejwani from the captaincy task to make Akash the captain.
According to Puneesh, if he did so, then he would become a villain in the eyes of the audience. Thus, he decided to step back.
This deeply affected Akash and we can see the consequences now.
Akash even misbehaved with Salman Khan when the actor called the two for a fight in the akhada. He tried talking Akash but had to leave the set because Akash refused to listen.
Even fans are disappointed with this. Look what they have to say: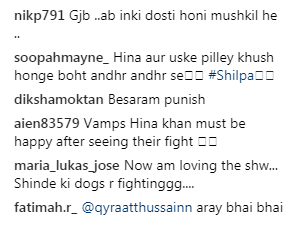 Ex-Bigg Boss winner Gauahar Khan also tweeted after watching the episode that aired on November 26.
She wrote: "For the first time I'm sooooo disappointed with Akash!!! Soooo disrespectful to someone of such a big stature who is explaining something to u for ur own good!! @BeingSalmanKhan kudos to u for ur patience... #sad" [sic.]
Let's hope the two reconcile soon.