In the latest episode of Bigg Boss 11 (Monday, October 23), the major point of discussion among the housemates was the new wild card contestant Dhinchak Pooja.
While viewers must have thought that the cringe pop singer would be stealing the limelight in the very first day of her stay inside the house, turned out it's the lice in her hair that grabbed the maximum attention throughout the episode.
Bigg Boss 11: This is what Salman's bodyguard Shera has to say about being accused of gang-rape threats
The entire house was anxious about it after Hiten Tejwani discovered it. Arshi Khan, who slept with Pooja the previous night, was terrified learning about it. Housemates had a discussion on how they can't stay in the same house with Pooja. They then decided that Hiten would ask for medicines for Pooja from Bigg Boss. The medicine was then procured by the housemates.
While everyone was making fun of Pooja, Shilpa Shinde politely spoke to her and discussed the remedy for lice.
Shilpa's genuine effort seemed to have impressed several viewers as they praised the former Bhabi Ji Ghar Par Hain actress on Twitter. On the other hand, Hina Khan's haters called her disgusting for laughing at Pooja. Others joined the housemates to make fun of the Selfie Maine Leli Aaj singer.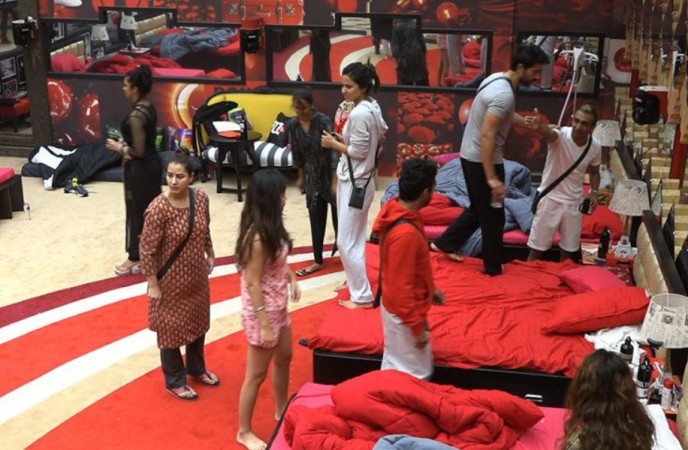 Check out some mixed Twitter reactions regarding Dhinchak Pooja and lice on her hair:
Anderson: How sweetly #ShilpaShinde explained #DhinchakPooja about her Lice problem & solution. Whereas #HinaKhan is Mocking Pooja. #BB11 @BiggBoss
Its Swarna: HMs behaving spoilt kids going n checking #DhinchakPooja 's lice.. Only our Basanti #Shilpa had d heart n level head to explain #BB11
Kruti: #Shilpa politely explained #DhinchakPooja the lice situation She didn't want others to laugh at Pooja #BB11 #BiggBoss11
Kruti: Why was #Hiten bothered about #DhinchakPooja's lice? I never thought he would act like a chhamiya. #BB11 #BiggBoss11
Anu: NationalTV pe toh #hinakhan shud not have made fun of #DhinchakPooja 's pets oops liceMediker meine le li aaj,Sarr pe mere leekhon ka taj
nirmalya: Gawd #DhinchakPooja is lice infested!! #BigBoss11
SamGill: #DhinchakPooja will go down in bigg boss history for her head full of lice! Lice princess of #BiggBoss11 #BB11
Rajdeep Roy: Sansani #BiggBoss11 Khulasa - #DhinchakPooja carrying Hair Lice n HouseMates r worried about it. Medicine di #BiggBoss @itsbiggboss
Riya‏: Haha unbelievable..... #DhinchakPooja comes on national television with a head full of lice #BiggBoss11 #BB11
joydeep ghosh: what!!!!! #BiggBoss11 #contestant #DhinchakPooja has #jua/#lice in her #hair that even scares shit out of #ArshiKhan #AbTeraKyaHogaArshi