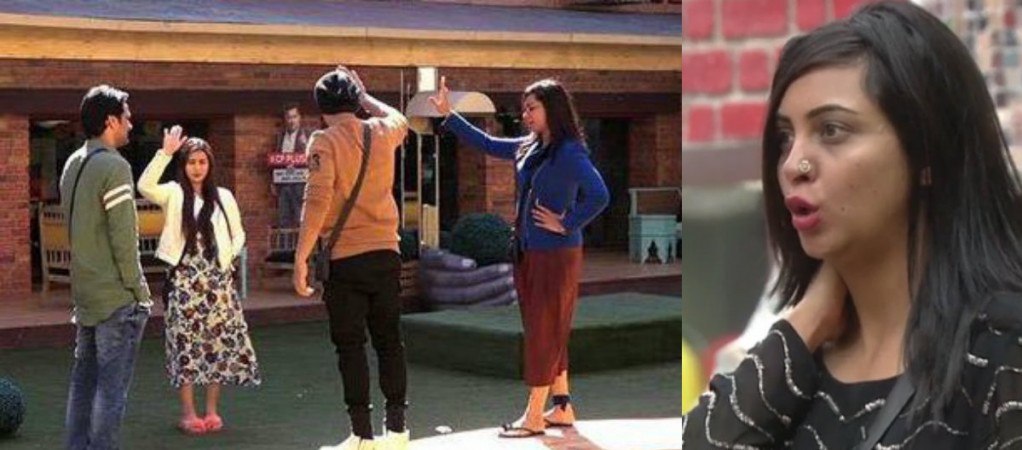 Bigg Boss 11 is coming towards its end, thus, contestants are trying their best to become the captain of the house. Not because they want to lead the house, but to be saved from the nominations for that week.
So, if you become the captain, you become safe for the next week's nomination. This time, Arshi Khan, Vikas Gupta, Luv Tyagi, Shilpa Shinde and Puneesh Sharma were to compete for the captaincy of the house. But their fights led to no captain for this week.
Arshi, who was already the captain, was asked to discuss with the fellow candidates and give two names to Bigg Boss who will compete for the captaincy with Puneesh. For the first time, Shilpa took a stand and wanted to lead the house.
This irked Arshi, who also wanted to be the captain again. Luv, who is one of the nominated contestants, stood for himself and said that he wanted to be the captain before going from this house. On the other hand, Vikas chose himself or Shilpa to be the captain of the house.
This again irked Arshi that how come Vikas betrayed her and took Shilpa's side. According to Arshi, she got the ongoing captaincy as a "khairat" (charity) and now, she wanted to win and get it again. Also, she was entirely against Shilpa being the captain as she claimed that these 11 weeks Shilpa didn't want to be the captain and suddenly the 12th week, the actress wants to compete.
In fact, Luv and Vikas tried to explain to Arshi that everyone should get a chance and this time let's give it to Shilpa. But Arshi was in no mood to give up and thus, they didn't have any names to give it to Bigg Boss. So, finally Bigg Boss announced the result saying there will be no captain this week.
Take a look at how fans reacted to the entire episode of captaincy fight:
ARSHI kya fukat Main "KAPTAN" kya ban gayi for one week she started behaving & feeling like QUEEN ELIZABETH! ?
Thank God BB cancelled the process, another week with ARSHI wud be like ?#BB11

— Vindu Dara Singh (@RealVinduSingh) December 15, 2017
#bb11#ArshiKhan is mad for captaincy ?? "mujhe captaincy ki jaroorat hai" #ShilpaShinde was bang on: captaincy JAROORAT nahi hai, HAQQ hai.. N mera bhi haqq hai captain banne ka"??
Arshi is feeling that this captaincy of BB, as the President of America's post ??

— Shruti (@proud_2beIndian) December 16, 2017
Arshi se fan se kya expect kr skte h
Tamij se bat krni to ATI Ni
Arshi meri b favourite thi
Ab Ni h
Aise to Shilpa ne b bola love Ko bna do
Tu dekh pahle dhng se samjhi

— sangeeta tripathi (@sa07131613) December 16, 2017
Abhi tak Arshi ne kya nhi bola shilpa Ko. Aaj Shilpa ne revert Kia to itna kalesh kyu mach Gaya lol.. it's called karma Arshi Khan ? Shilpa bhi game khelne aai hai udhar aap sabki baatein sunne nhi after all #bb11 #SalmanKhan #ColorsTV #WeekendKaVaar

— N J (@nitjng) December 16, 2017