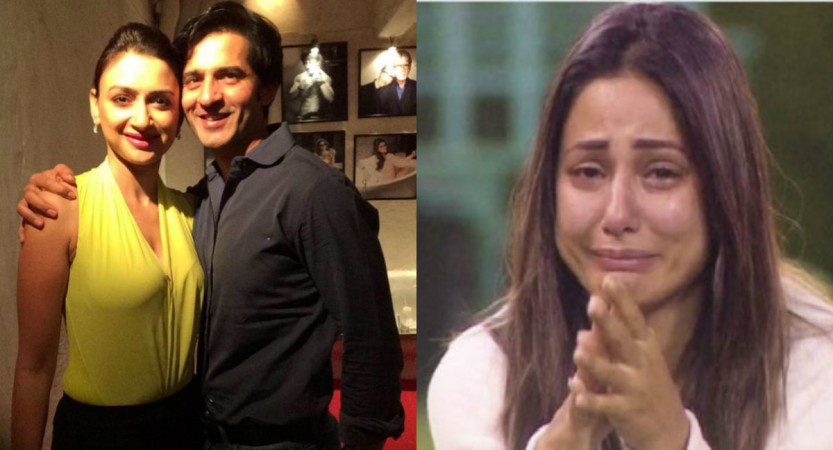 Bigg Boss 11 has been an emotional roller coaster ride for the housemates for two days. They have been given a luxury budget task, in which they should freeze and remain like a statue when their family members come there to meet them.
While most of them cried seeing their parents, fans and housemates were eagerly waiting for Hiten Tejwani's wife Gauri Pradhan to enter the house.
The episode will air today, but the sneak peek showed how Hiten gets emotional on seeing his wife. Gauri and Hiten are senior TV actors and popular for their on-screen pairing, while they are a couple in real life too.
Gauri expressed what she thinks of Arshi flirting with Hiten and also, she reacted to Hina's allegations against Hiten. In the captaincy task, Hina had said that Hiten is a follower and mentioned what Gauri had written in one letter to her husband – Don't be a follower, be a leader.
In the promo, Gauri rebuked Hina on her face. She said: "I think he is playing really well and jo mene message bheja tha that be a leader and not a follower, it was for Hiten, not everybody else to analyze it."
We wonder how Hina will react to it.
The sad part is Bigg Boss didn't release Hiten from his statue position to even hug Gauri. Hiten was seen running towards the main door from where his wife exited.
But she met everyone and said some very interesting things to them all. While she praised Shilpa and Puneesh, she told Akash that she's disappointed with him. Also, she thanked Vikas Gupta for being there for Hiten but also warned that his mind games should not harm her husband.
But the highlight was what she told Hina and how Bigg Boss 11 fans reacted to it. Take a look here:
Such...nice moment gauri..rocks...she slams hina..@tentej..is real and honest person...most deserving player

— BIGG Trolls (@meS_AM_) December 8, 2017
wowww..........@gpradhan7774 is looking so damn beautiful........loved what she said to Hina abput her message to Hiten.......well done Gauri?

— Mannu (@IamManali15) December 8, 2017
Gauri slaying tomorrow ?
Hina face No No No
Haad hai yaar !
I want to see arshi face when gauri comes !
Stay Strong Shilpa

— Junior Shilpa ? (@SbSamanbutt) December 7, 2017