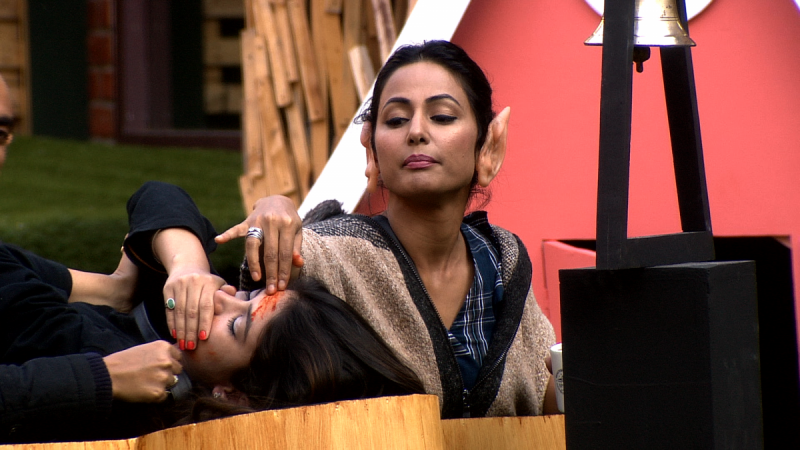 Bigg Boss 11 had an interesting luxury budget task this time. And Hina showed her vamp-like avatar once again during the task, coming up with ideas that hurt the other housemates.
Inspired by famous children's story Gulliver's Travels, the contestants were divided into two groups — Giants (Bandgi Kalra, Puneesh Sharma, Hiten Tejwani and Shilpa Shinde) and Dwarfs/Lilliputs (Hina Khan, Akash Dadlani, Arshi Khan and Luv Tyagi). Vikas and Priyank are the two 'Sanchalak' supervising the task.
With the lawn area converted into a land of Lilliputs, the dwarfs can capture and hold one giant in their custody and torture them by all means possible to get them to tap out of the task.
On their knees for the duration of the task, the dwarfs try their best to find new ways to torment the Giants, who are tied down on a bench with ropes.
Hina apparently uses this opportunity to take revenge in the name of performing the task. She puts red chilli powder in Bandgi Kalra's eyes and stops Vikas when he tries to give her water. The Lilliputs also rub chilli powder all over Giant Bandgi's face and body.
It doesn't end there as they threaten to cut all her hair and shave off her eyebrows. Using chilli powder as her weapon, Hina continues to torment the Giants.
The next Giant is Shilpa, who is fed raw chili powder by Hina and has her face covered in lipstick by Arshi. Hina shows off her competitive side as she starts killing bugs and insects around her and puts them inside Shilpa's clothes.
Puneesh and Hiten are also tortured in the task. Watch the promo here:
Interestingly, Hina enjoys torturing the Giants with chilli powder, but create a big scene when it gets into her eyes by mistake as Vikas snatches the spice box from her. As usual, Hina is slammed on social media by Bigg Boss fans.
Her evil side is actually proving to be really bad for her image outside the house.
Here's what Bigg Boss fans have to say:
Right Swami om baba blessed hina khan and said bigg boss se mera badLA tu hi lena beta…bigg boss se nikalne k baad mai boht pitta hu bahar..

— sumi (@Shaw76Shaw) November 28, 2017
Hina khan is such a dirty player i cant believe task task to aise chilla rahi hai jaise task me kisiko jaan bhi chalo jaye to koi parwah nahi ???? sachme bakwas behudi ki hadh paar kar di is aurat me to shame shame on you miss so called classy #HinaKhan #BiggBoss11

— Hajira Khan (@HajiraKhann) November 28, 2017
Hina Khan: the more u torture Bandgi (as seen in precap),d more r the chances of ur puppy Luv being evicted!?? #BiggBoss11 #BB11

— Mahesh Shenoy ? (@MaheshShenoy12) November 27, 2017