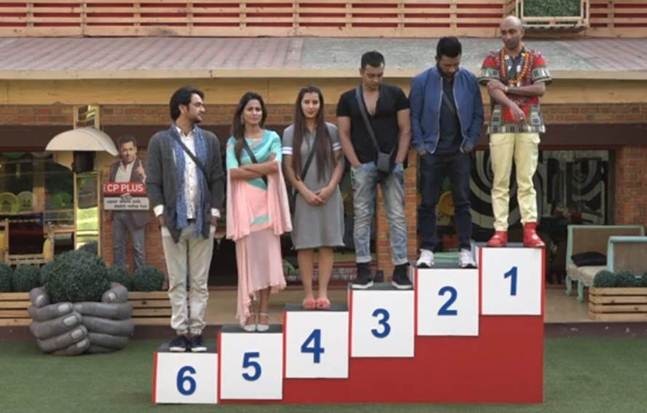 After a shocking nomination task, where Bigg Boss 11's Changu-Mangu i.e. Akash Dadlani and Puneesh Sharma successfully found a spot in the Top 5, it is time for 1 lucky contestant to win the Ticket to the Grand Finale. And Puneesh Sharma and Luv Tyagi have won that luck chance.
With just 6 of them in the house, the difference between the impossible and possible depends on a person's determination. The days to come will show how determined the gharwale are to win this season of Bigg Boss! The golden opportunity to make it to the finale lies atop Mount BB, a rigorous task that will make the contestants fight for an equal chance. A mountain climbing task, contestants have to eliminate their competition one by one, simply by using their street smartness.
Who makes it till the end? Well, it was none other than Puneesh Sharma and Luv Tyagi. Meanwhile, in the Extra Doze, Vikas Gupta and Hina Khan are seeing bitching about Shilpa Shinde. Apparently, she definitely did something because of which the two are furious about her. Vikas also made a comment in the episode on Shilpa's weight. He said, "she will get tired soon and won't be able to do the task."
This is how fans reacted on Twitter after watching the video:
Vikas- Shilpa itni dogli hai. Woh kitchen me rehti kyunki woh uska comfort zone hai. Hina sabki tattiya saaf karti h, mai jhadu karta hu.

Like ♥️ if u have seen Vikas doing any household work

RT ? if u hv seen Shilpa doing jhaadu also#BB11#WeLoveShilpaShinde#BiggBoss11

— Priyal Sharma ? (@priyalsharma028) January 3, 2018
Very good bro.... Aise hi #VikasGupta aur #HinaKhan ki bitching wali video post kia kro.... So that sbko pta chale inki asliyat... Bs let k bitching krne k alawa aata hi kya h.... Khud to task se out ho gye #ShilpaShinde se phle aur yha gyan bat rhe.. Loosers#BB11 #BiggBoss11

— saurabh mishra (@rockzz_saurabh) January 3, 2018
Vikas used to bitch abt Hina to #Shilpa . Now bitching abt Shilpa to Hina. Hina used to bitch abt Vikas to Shilpa, now bitching abt Shilpa to Vikas. Whos dogla now? Who's double dholki? #BB11 #Biggboss11 #MTVExtraDose

— Shrushti ? (@shrushtispeaks) January 2, 2018
Episode was not about Vikas but the way Vikas and Hina were bitching about Shilpa showing their insecurity with Shilpa. That was the highlight of extra dose.

— Ravi Gc (@RaviGc13) January 3, 2018
For those who don't know, the lawn area has been converted into a large snow mountain and a stepper placed on an incline denotes the mountain climb. The contestants must carry bags with each other's name and either empty it to signify the choice of elimination or form an alliance by saving it from someone else who is trying to empty it. The main motive for the contestants here will be to ensure that their bag pack reaches the top of the BB Mountain safe and sound.
While Vikas Gupta cracked a deal with Hina and the two of them decided to stand by each other but in the upcming promo, it was shown that Vikas Gupta lost the task. Who was responsible? Well, his sworn rival Luv Tyagi. The two ladies of the house, Shilpa and Hina, team up to ensure Akash is the first one out of the task. And they definitely succeed. But it seems that Shilpa even let Hina loose. We will know in the episode tonight.
Amidst the task, Hina Khan and Luv Tyagi get into a fight as well. Will this lead to their 'break-up'? Only till will tell.