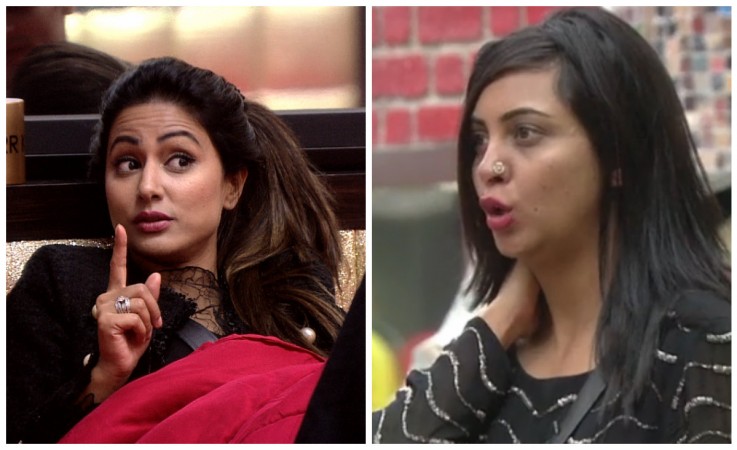 Things inside Bigg Boss 11 are going to get real ugly as one of Hina Khan's big lie about Arshi Khan stands exposed. Hina had resolutely denied having discussed about Arshi's bra with Benafsha Soonawalla, Priyank Sharma and Luv Tyagi. But the latest episode would prove that it was a big lie.
One promo video of Bigg Boss 11 shows captain Arshi being given a special privilege to watch some of unseen footages inside the house where contestants talked about her behind her back. Along with her, Arshi had to choose two other contestants who would enjoy the same privilege, and she picks up Vikas Gupta and Hina.
One such footage revealed Hina's lie, and left Arshi totally shocked. The first footage showed Hina discussing Arshi's nude coloured bra in the presence of Benafsha, Priyank and Luv. Hina is heard saying that Arshi had worn the particular bra deliberately to grab attention.
But the most interesting part is, during the court task, Hina had completely denied talking about it in front of the two male contestants, and had said that she had talked about it only with Benafsha.
Having realised Hina's big lie, Arshi seemed to be completely taken aback. She is shown another footage where Puneesh Sharma is seen planning to target Arshi, blaming her of doing many wrong things inside the house. Watch the video below:
This certainly must have come as a big shock to Arshi, and it will be very interesting to see how Hina would defend herself when the controversial diva would confront her. All these will happen in tonight's episode.
Meanwhile, things have turned bad between Arshi and Shilpa Shinde as well. Arshi had complained to Hina about Shilpa cooking food with tap water, following which Hina had gotten into a scuffle with the Bhabiji Ghar Par Hain actress.
While Hina had told Shilpa not to use tap water but the filtered water for cooking, the latter had defended herself saying that the water anyways gets boiled during cooking. However, things had gotten heated up, and Shilpa withdrew herself from the kitchen. She was much miffed with Arshi as well for complaining it to Hina.