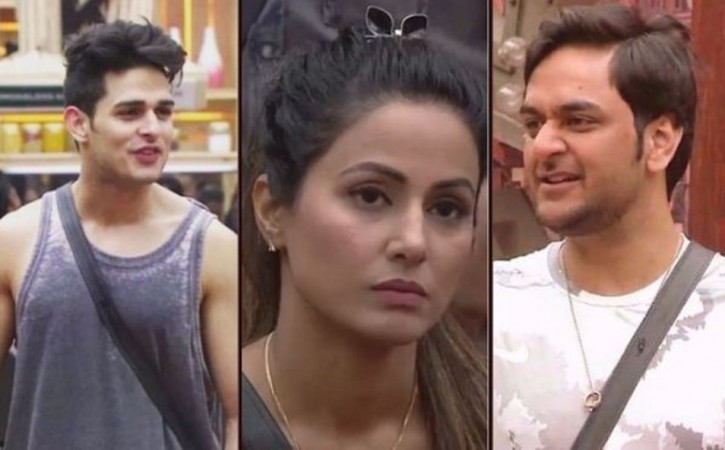 Bigg Boss 11's ongoing luxury budget task will teach the contestants to control their emotions. The housemates are divided into two teams –Robots and Karamchari — with Puneesh Sharma helming the task as the 'Mad Scientist Sanchalak.'
Hina Khan, Priyank Sharma, Akash Dadlani and Hiten Tejwani are the robots; while Vikas Gupta, Shilpa Shinde, Arshi Khan and Luv Tyagi don the hat of Karamchari (workers). It is the responsibility of the karamchari to get specific emotions out of the robots, while the robots try their best to contain their reactions. The task is divided into three rounds based on different emotions – Anger, Sadness and Happiness.
On day 1 of the task, Vikas did well as he lashed out at Akash, Priyanka and Hina based on the emotion – Anger. Vikas said to Priyank that he makes a girlfriend on every reality show. In Splitsvilla, it was Divya Agarwal and here it was Benafsha Soonawalla. Then, Vikas went to Hina and said that she instigates people to fight.
But the producer forgot that on day 2, he will be in their place. So, on the second day, karamchari Hina and Priyank Sarma are set to plot the perfect revenge against Robot Vikas. Masking their real grudges in the name of the task, they let out their hidden sentiments that have been bottled up until now. Hina very angrily tells Vikas that he is good to Shilpa only because he fears her and makes him aware that he lacks chivalry.
Also read: Hiten Tejwani's saree avatar on Bigg Boss 11
Priyank then lashes out at Vikas saying that it was wrong of him to drag Benafsha and Divya in the game for the sake of winning the task.
While we wonder how Vikas will react to the allegations, Bigg Boss fans have already responded to it.
Ok in the promo when bigg boss said, "hina aur priyank ne ki saari hadein paar", I was like, 'lo fir fasegi reaction ke chakkar me' but trust me both of them did a great job. Actually they clarified all what Vikas said yesterday. Hina is getting better since she met rocky n rohan

— Kiara (@_Kiara_S_) December 13, 2017
We dnt hve any prblm with that. Its a task he did it ok fyn bt then priyank and hian also did it in task then why are vikas fans like attacking them now. Doesn't d rule shud be equal nd sme fr all. If Vikas is right den so is Pri nd Hina #BB11 https://t.co/IrYeEytgKy

— I Support Priyank (@ShahidzAnnie) December 13, 2017
#Hina's memory is selective?

Proof:

While bashing #Vikas she said "Mene #Priyank aur tumhara patch up karwane ki koshish ki thi DON'T FORGET THAT!"?

And also : Mene kab kisi ko bhadkaya??

Two completely opposite things!?#BB11 #BiggBoss11

— Kruti? (@RealKruti101) December 13, 2017
Sorry bt i feel hina or priyank achha perform nhi kar rahe, ye log apni frustrations hi nikal rahe h bas...vikas ko gussa dilaana h , naa ki khud ka gussa zaahir karna h..?
Explanations or justifications k bajaye accusations lagane chahiye thhe..? #bb11

— ₹lshy❤️ Black☕ (@rashy89) December 13, 2017
Everyone used tell how Shilpa tortured Vikas but still Shilpa did it in a fun way.. These Hina and Priyank have lost their mind and big liars

— Preeti Gopal (@preetu1430) December 13, 2017