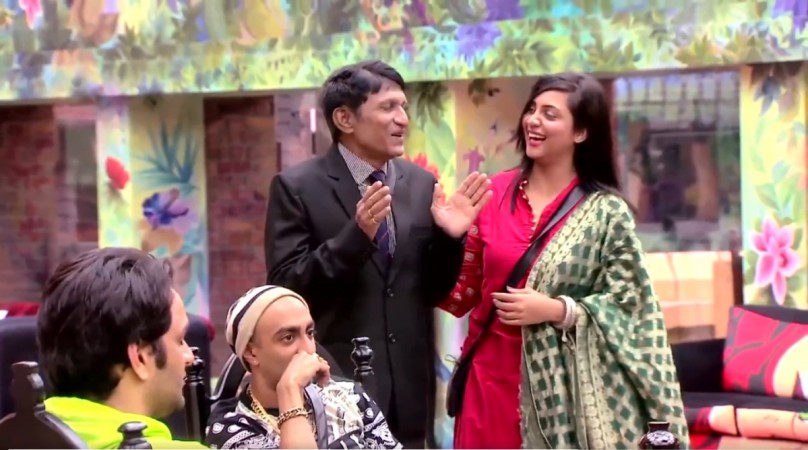 Bigg Boss 11 family task took their viewers on a emotional ride when family members of house inmates like Shilpa Shinde, Vikas Gupta, Priyank Sharma and Puneesh Sharma entered into the house. While the contestants were left teary-eyed seeing their loved ones after two months, Arshi Khan's father turned every tear into laughter.
As the task required Bigg Boss 11 contestant to freeze to their grounds when a family member enters into the house, Arshi Khan's father greeted each contestant and passed some humorous comments to make the whole scene lighter.
In a 3-minute-long video, Arshi Khan's father tells Priyank Sharma, "Kam umar ho. Gussa jaldi kar lete ho (You are quite young. But you are short-tempered)" To Hiten Tejwani, he says, "Sabhi bolte hai, acha bolte ho, acha karte ho (Everybody says that you talk nicely and do things nicely as well)." "Aapka to kitna acha good luck chal raha hai (My god, your luck is really favouring you)," he tells Luv.
"Aap mehak rahi ho. Lekin kabhi kabhi bohot jaldi bol deti ho. Kabhi samajh me aata hai, kabhi nahi aata hai (You are smelling nice. But sometimes you speak in haste. Sometimes we understand and sometimes we don't)," he told Hina.
"Aise hi chattaan ki tarah khadi rahiye (Keep standing tall like a rock)," Arshi's father wishes Shilpa.
Later, when Bigg Boss releases Arshi from statue, she runs towards her father and gives him a tight hug and tells him, "aap budhe lag rahe ho (You have grown old)", to which her father instantly replies with a smile, "Budha hi to hoon (Yes, I am old)."
Arshi then escorts her father to the garden area where he tells her that she should change her hairstyle and asks her to tie her hair in a ponytail which will give her a brand new look on the show.
He then tells Arshi to talk respectfully with Salman Khan since the superstar is elder to her.
"Salmanji tumse bade hain, unhe thoda aur respect ke saath bulaya karo.. Salman ji ya phir Salman Sir. Jab bhi wo aaye unhe salaam karo (Salman is elder to you. You should greet him with respect. Call him Salman ji or Salman sir. Whenever he comes, greet with a Salaam)," Arshi's father says. To which the daughter replies, "mai salaam karti hun but wo namaskaar Arshi ji bol dete hai (I greet him with Salaam only but he always says namaskaar Arshi Ji)", to which her father insists, "tum salaam karo, achha impression padega (You greet with Salaam only, it will have good impression on him)."
Arshi Khan's father's emotional or rather funny encounter will surely put smile on Bigg Boss viewers who would be holding tissues in their hands while watching emotional encounters of family members of their favourite contestant.