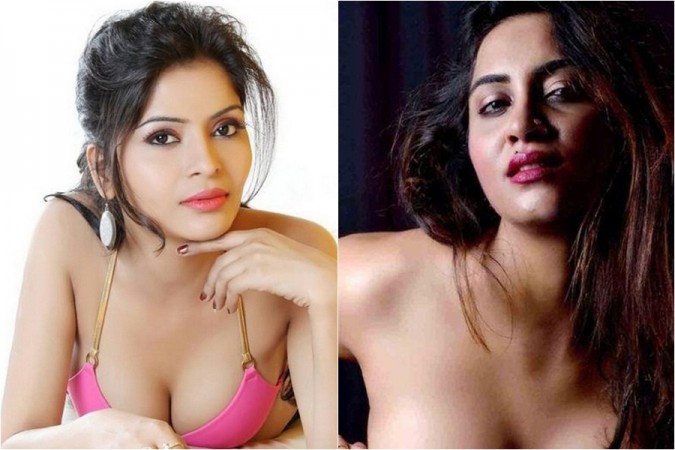 South actress Gehana Vasisth, who has been accused of spreading false news about Bigg Boss 11 contestants, has now threatened to publicly release Arshi Khan's sex video in a hotel room with a client to the media which she claims is in her possession, Asia TV reported.
Earlier, Bigg Boss 11 viewers had seen how Priyank Sharma told Sapna Choudhary to use the phrase "Pune and Goa" against Arshi to reveal her darkest and dirtiest scandals, which she has been trying to hide.
Arshi was suspected to be part of a flesh trade racket in Pune in October 2016, according to the Indian Express. As per a report in Pune Mirror, Arshi was even caught in a raid by Pune Police who alleged that she was in the city for prostitution with two of her agents who were said to be soliciting clients on her behalf.
As for the Goa incident, Arshi was arrested by Goa Police from a five-star beachside hotel for prostitution, according to enewzhub.com.
On the other hand, Arshi Khan's publicist Flynn Remedios has reportedly sued Gehana Vasisth for making scandalous statements against the Bigg Boss 11 contestant. To which the actress retaliated saying that she is not scared of Flynn Remedios who used to handle Gehana's
PR 3-4 years ago.
Gehana Vasisth has been in the news over the past few days for her shocking revelations about Bigg Boss 11 inmates including Priyank Sharma, Arshi Khan, Zubair Khan and Puneesh Sharma-Bandagi Kalra-Dennis Nagpal. Recently, she targeted Shilpa Shinde and claimed that she was in a
physical relationship with Vikas Gupta.
Earlier, Arshi's publicist had sued Priyank for Rs 50 lakh, alleging that he made false controversial news about Arshi in public.
It looks like Gehana Vasisth gearing up to be the top contestant in the next season of the controversial reality show Bigg Boss.