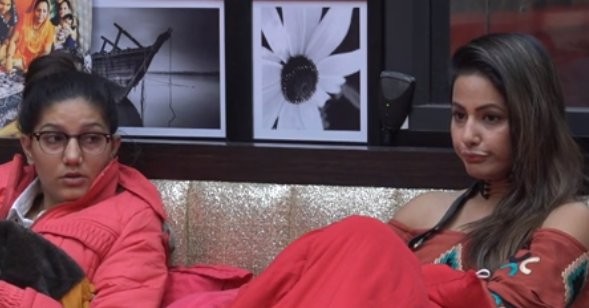 Bigg Boss 11 contestant Sapna Chaudhary was considered a quiet, wise woman. But recently, she is seen moving to some other zone. Once "shaant," Sapna has suddenly woken up; is it because of the nomination stress or Hina Khan's planning?
In the recent luxury budget task, Sapna was the judge along with Bandgi Kalra. In the task, the Bigg Boss house turned into a courtroom, in which divorce case of Hiten Tejwani and Arshi Khan was held.
These were the characters played by the other housemates: Hina was Hiten's sister, Priyank Sharma, Luv Tyagi were Hiten's brother. Shilpa Shinde played Arshi's mother's role. Puneesh and Vikas were Arshi's brothers.
Hina and Priyank demeaned and slut-shamed Arshi Khan and Sapna took the former's side. Audience saw that Sapna had stopped using her brains and was doing whatever Hina told her to do.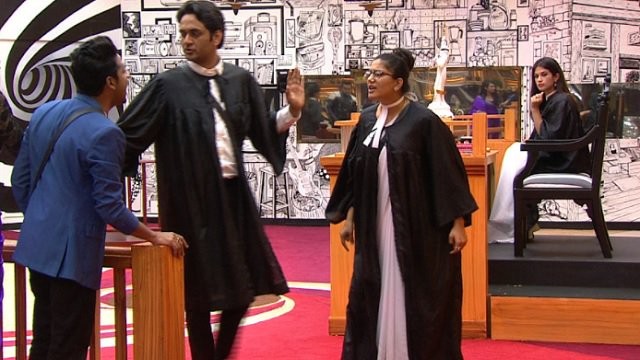 In fact, in the nominations task, she came into the bad books of other contestants as well as viewers. Hina used her and Sapna is still clueless about it.
This situation of Sapna has irked the Bigg Boss fans and they have slammed her on social media. According to the fans, Sapna has now become a part of Hina's circle and shouting at every small thing happening in the house.
In fact, in one of the extra dose episodes, Shilpa and Arshi were discussing what has happened to her. The two even said that Sapna is fighting like Jyoti Kumari, who was slammed by the housemates for her bad language while fighting.
Here is what Bigg Boss 11 fans have to say about Sapna Chaudhary:
Sapna Chaudhary is a judge who not only supports her favourite ppl in the court, but also points out instances and does the role of witness at the same time. Ye bik gayi hi Sapna ?

Law ki dhajiyan uda di is ganwar sapna ne ??#BB11

— Monita?#ShilpaFTW (@gregariousmona) November 22, 2017
Y #SapnaChaudhary always starts screaming whn d situation goes out of her hands. She is biased and a very narrow minded person. She says shit about each and everyone but when d same comes on her she goes mad and starts screaming like an idiot. #IAmWithArshi

— ?Disha? (@disha0612) November 22, 2017
BigBoss11 me sapna chaudhary sabse ghatiya aur bekar kism ki ladki hai.

— Himanshu Patel (@PatelManu31) November 23, 2017